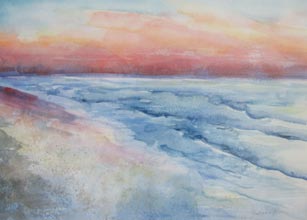 Juliana Boyd Kim is an accomplished watercolorist with over 45 years of experience in the medium.  Her work investigates the essence of space, place and color. Her extensive travels have provided diverse landscapes, many of which she paints "en plein air."
From a stormy lagoon to a calm mountain lake, Juliana captures watery views of the Lowcountry, and other destinations, with the fluidity, flexibility and surprises of watercolor.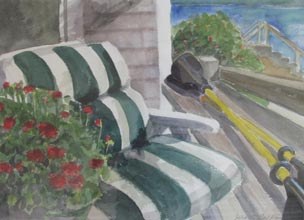 Juliana's show 'Watery Wonderlands' is on exhibit now through August 3 at Starbucks at Pineland Station, one of Art League of Hilton Head's Satellite Galleries, 416 William Hilton Parkway.  689-6823
            Art League of Hilton Head is the only 501(c)(3) nonprofit visual arts organization on Hilton Head Island with a synergistic Art Gallery and Teaching Academy that welcomes artists and students at all levels and in all media.Art League of Hilton Head promotes and supports the visual arts through education, exhibitions and partnerships for the cultural enhancement of the community and its visitors.