Tricia Gardner featured at BAA Gallery

"To paint it, you must experience it," says St. Helena Island artist, Tricia Gardner. "The light, the smells, the feel of the landscape cannot be replicated in the studio unless you have been there and become one with the scene." Gardner is the featured artist for the next exhibit at the Beaufort Art Association Gallery, scheduled for April 6 – May 15. The public is invited to view the work and discuss her art and travels during the opening reception on Friday, April 9 from 5:30-7:30. The Laizee Rivers Band will provide music.
Expect to see oil paintings of shrimp boats and scenes of the Lowcountry tidal marshes. Gardner's style is uniquely her own: moody skies are backdrops for angular fish shacks and mysterious trees with energetic colors and lines. The lines and rigging of sailboats as well as those found on shrimping and fishing boats tantalize her and challenge her brush and palette knife. The resulting works are impressionistic, bordering on the abstract. Photorealism is the antithesis of her style.
Location, atmosphere and light are the big three for Tricia who prefers to do "plein air" painting whenever possible. That means she chooses to work in the open air or out of doors. "I get an energy and inspiration from nature, from local marshes of Port Royal Sound to coastal fishing villages off the beaten path," say Gardner.
Tricia has been drawing for as long as she can remember. Her life, however, has not always been dominated by painting. She is a graduate of Pennsylvania State University, with graduate work at the State University of New York and George Washington University. Her major was business, not art. Her professional career spanned thirty years with the federal government in Washington, DC. Since retiring from government life, Tricia has traveled extensively to take plein air workshops. She has painted with artists in the deserts of the southwest, the California coast, Maine, the Caribbean Islands, Key West, Sicily, Spain, and Greece. She has studied art at the Torpedo Factory in Alexandria, Virginia, the Loudoun Academy of Art in Leesburg, Virginia and the Delaplaine Academy in Frederick, Maryland. She has painted on location with Ross Miller of the Smithsonian Museum of Art, Bob Gamblin of Gamblin Paints, and Walt Bartman of the Yellow Barn Studio. Locally, she has studied under Ted Jordan of the Hilton Head Art Academy and has participated in workshops through the Hilton Head Art League with Ron Ranson, Tom Lynch, Charles Gruppe and Susan Sarback.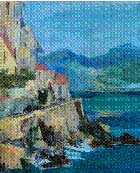 Impatient and restless by nature, Gardner is always on the move. This is reflected in both her art style and the process she uses to paint. She never labors over a painting for days on end and never paints sitting down. She likes to be free to move about the location and feels that the first stroke with the brush or palette knife is the best and most true to the scene. She feels that laboring over a painting can ruin it by destroying its spontaneity and prefers to paint with reckless abandon. A former teacher once told her that great art is not made by timid people. Tricia is not timid. Her paintings show boldness that attracts immediate attention. She insists that adventure, aggression, energy, tenacity and perseverance serve her well as an artist. On occasion she asks the painting what it needs and waits for it to reply. According to Gardner, "If the moment is right, the painting will paint itself."