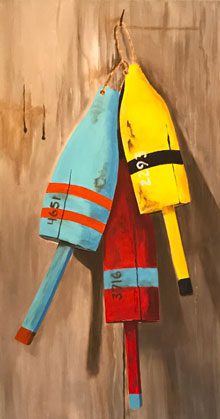 Linda Hilts' "Sea to Shining Sea and Places in Between" will feature her favorite art mediums — watercolor, acrylic and pastel — during an exhibit from Nov. 5- Dec. 1 at The Society of Bluffton Artists gallery, located on Church Street in Old Town Bluffton. An opening reception is scheduled from 3-5 p.m. Nov. 11 at the gallery. The event is free and open to the public.
Hilts is a long-time artist — whose experience with different cultures across the United States and Europe helped shaped her art.
"Art has always been a passion for me," Hilts said. "The smell of the paint, the sight of colors mixing and blending with each other is — for me — the creative magic that art is made of."
Hilts ran a successful children's art parties business and developed aa children's art program at the Monongahlia Art Center in Morgantown, WV. She earned a bachelor's degree in human resources and a studio art certificate from Immaculate University in Malvern, PA. In addition to being a member of SoBA, Hilts also is a member of the All About Art group in Sun City Hilton Head.
Hilts retired to Bluffton from Marlborough, MA four years ago. She and her husband started Act II Enterprises, a business that repurposes unwanted orphaned wood furniture.
SoBA is the flourishing art hub in Bluffton's historic District at the corner of Church and Calhoun streets. SoBA offers regular art classes, featured artist shows, exhibitions and more. Please visit www.sobagallery.com for a complete calendar of events and other information or call 843-757-6586.