Victoria Smalls romances the canvas…
For the past three years around Valentine's Day, the Red Piano Too Art Gallery on St. Helena Island has hosted an art show with the theme of "Love" always in mind.  This year the Red Piano Too will feature the art of St. Helena Island native Victoria Smalls, in its annual "Celebration of Love."  The collection will primarily showcase paintings in the artist's favorite medium – soft pastels.  The artist has combined her signature series of "Contemplation Faces" in varying hues and flesh tones and images of couples embracing, walking along the seaside, reflecting and celebrating their love for one another.
"My 'Contemplation Faces', will always be a subject integrated into my work.  They are who I am, a wonderful blend of Gullah, English and Irish," says Victoria.  "They represent my (once upon a time in the 1960's and 70's) very unique family here on the Island."  The various hues reflect her bi-racial parentage, being part of a huge-blended family of fourteen multi-ethnic siblings, and being a member of the Bahá'í Faith, whose philosophy is the oneness of humanity.
Victoria's first love, teaching, took her within the Early Childhood Education field for several years.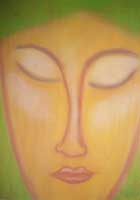 She enjoyed working at Lady's Island Elementary, St. Helena Elementary, with the FACES Program and with teachers who infused many of the learning experiences with art, and all forms of it.  To prepare herself in the education field, Victoria furthered her education at South Carolina State University, and then later at the University of South Carolina- Beaufort.              
Victoria has three children: Christopher, a freshman studying art and voice at Winthrop University; Julian, a very athletic 12 year-old; and Layla, a five-year-old who describes herself as a singer and artist, as well.  She recalls a time when she wanted to display original artwork on the walls in her home to expose her children to visual art.  Unaware that artwork could be found in her price range, she assumed that she could not afford to pay for original art.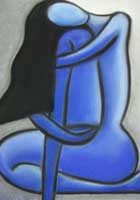 The artist attributes her love and ease of painting with pastels to her mother.  Victoria's mother often drew using soft pastels, and introduced this medium to her as a child.  She remembers visualizing her mother drawing with pastels.  She explains, "I picked up pastels again to create a special present for a gift exchange party.  I framed it beautifully and was very proud of it.  Everyone (and that includes me) was trying to regain the pastel painting, as it was taken from the previous person who chose it.  This game was supposed to teach us detachment from material things, but it didn't work for my fellow gift givers or me.  Before going to the party, I told myself, if no one likes this piece, I love it and I will hang it at home proudly.  However, that did not happen and I have not put my pastels down since then."  She continues, "Soft Pastels are a very expressive medium. Working on a soft white, brown or black Stonehenge printmakers' paper, I use my hands and fingers to blend and blend."  When the artist describes her technique, she says,  "It's like finger painting, and I blend the pigments deep into the paper until there are no loose powder pigments remaining. Then I build and continue to build color upon color."  Many of the pieces created carry the artist's signature colors that are used in most of her pastel paintings.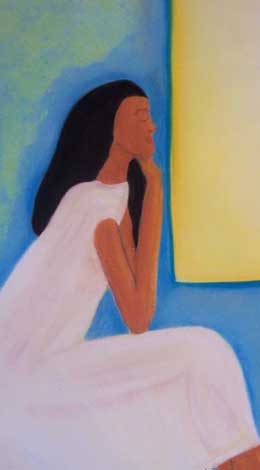 Upon being asked what inspires her, Victoria replied, "My beautiful Lowcountry family and surroundings, the gallery – with it's colorful and joyful art that I'm surrounded by daily – and my mood.  I surround myself at home with the beautiful creations, paintings, photos and sculptures created mostly by Lowcountry artists. My thinking and mood each morning dictate my work for the day."  The favorite of her pastel paintings to date is one entitled "Blue's Mood."  It portrays a lady sitting in a pose with her arms wrapped around herself, head tilted and gently resting on her knee.  The light shines from above, touches her face and dances over her undressed body.  "Not only is she the color blue, her name is 'Blue,' and she was me," says the artist, describing her personal mood at the time the piece was created.  As you view the painting, "Blue's Mood," you see the subject comforting, embracing and loving herself; finding herself at peace with the aid of this brilliant light shining on her.  Victoria is so proud of the piece that she will soon have limited edition giclees made of "Blue's Mood" available for purchase.  Upon first sight of "Blue's Mood," Mary I. Mack, the owner of the Red Piano Too Art Gallery, purchased it immediately.  Victoria goes as often as possible to visit 'Blue,' hanging on Mack's wall in her home, and is "proud and honored" to be in the Mary I. Mack collection.
This self-taught artist has been painting with pastels for nine years now and her painting grace the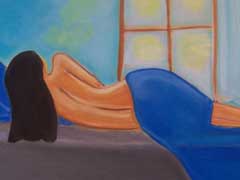 walls of collectors' homes across the country.  Just recently, she has decided to pick up a paintbrush and enjoys experimenting with acrylics, but admits that she "loves" pastels.
Victoria is currently employed by the Red Piano Too Art Gallery, where she curates the gallery exhibits, does custom picture framing, enjoys welcoming visitors to the Lowcountry from across the country and abroad and selling art.  She shares stories with gallery visitors about her family life, her love for St. Helena Island and all its treasures and enjoys introducing visitors to the art she loves – which presents a beautiful backdrop for her all day at work.  Victoria Smalls shows her work exclusively in the Red Piano Too Art Gallery, where you will find a body of work she has created with romantic themes in mind.
Joining the featured artist will be another St. Helena Island native and self-taught artist, Saundra "Renee" Smith.  She has been exhibiting at the gallery for two years now and is considered the Red Piano Too's "Rising Star."   In addition to the inspiring art collection featured, look forward to viewing a beautiful assortment of healing gem and earth stones set in sterling silver presented by Barbara Kelly.
This exhibit will open on Saturday, February 12, 2011, at the art gallery located at 870 Sea Island Parkway on St. Helena Island with a "Meet the Artists Reception" from 12:00 pm – 5:00 pm. The exhibit is free and open to the public, so come out and support our local artists.  For more information call (843) 838-2241 and visit www.RedPianoToo.com.