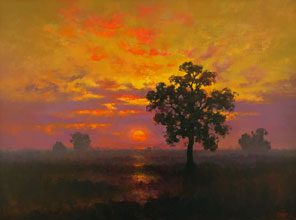 The USCB Center for the Arts is currently hosting an exhibit by Gerald Erley.   The exhibit Poetry of Nature will be on display through September 30th in the Center for the Arts Gallery. The public is invited to a closing reception on Thursday, September 29 from 5:30 – 7 pm.
Erley's landscape paintings feel familiar, reminding the viewer of secret and magical destinations of their past. The peaceful imagery inspires relaxation and reflection. He paints landscapes full of wonder, not an exact replica of nature he sees but rather his poetic interpretation of his surroundings.
Erley creates his landscapes in oil paint on canvas and panels.  He rarely refers to photos or sketches, preferring to paint in the studio from memory and intuition.  The artist is influenced by such 19th-century American and European painters as George Inness, Corot, and Turner.  Like them, he seeks a sublime quality of light in his romantic landscapes.
Gerard Erley, an Illinois native currently living in South Carolina, has had over two dozen solo exhibits throughout the United States.  His award-winning artwork has been exhibited in over 200 juried shows, winning dozens of awards.  The artist's work has hung in museums and galleries from New York to California, and can be found in museum, corporate and private collections both in the United States and abroad.
USCB Center for the Arts Gallery is located at 805 Carteret Street. The exhibit is free and open to the public Monday through Friday 10 am till 5 PM and during performances.