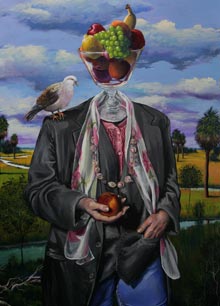 Looking for a creative way to celebrate St. Patrick's Day? Head to downtown Beaufort from 5 to 7:30 p.m. on Saturday March 17
th
and revel in glorious artwork. The Guild of Beaufort Galleries is hosting its Spring Art Walk, and it's perfectly timed to kick off your evening's festivities.
The Charles Street Gallery offers a show of new work by Carol Henry, an international printmaker whose vibrant colors on paper reflect a beauty-saturated world. Henry lives in Beaufort a few months of the year, also maintaining a home and studio in Ireland, where she is a member of Cork Printmakers, a jury-selected association for artists working in Ireland. 843-521-9054, thecharlesstreetgallery.com.
The USCB Gallery is showcasing 12 abstract artists including Deanna Bowdish, Joan Templer, Cindy Chiapetta, Marilyn Dizikes, Joe Dye, Vickie Jourdan, Sharon Licata, Mary Jane Martin, Arla Crumlick Wible, Irene K. Williamson, and Caroll Williams.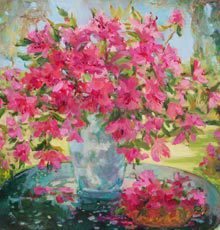 Karen Keene Day, wild horse artist and advocate, is back in Beaufort at the I. Pinckney Simons Gallery, LLC. A very powerful group of new paintings collectively known as Moments With Wild Horses will be on display at Art Walk. Karen's approach to painting is as energetic as her subject. Acrylic paints are applied and removed with brush and large pallet knife which gives an astonishing sculptured texture of the entire surface. Sizes span from 8" x 8" to 60" x 48".
The Craftseller features the work of over 200 American craft artists. These artists, from 32 different states, work in many mediums such as glass, wood, clay, and jewelry. Jewelry shoppers will delight at the wall of unique, handcrafted earrings and designer jewelry, all made in the USA.   For further information contact Charlie Williams at 525-6104.
LyBensons Gallery and Studio will be featuring a photographic exhibit by gallery owner Kenneth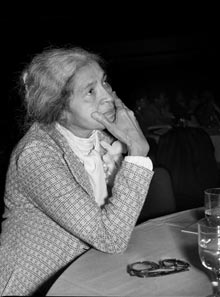 Hodges. The exhibit will include original Photographs of such noted individuals as Rosa Parks, Dizzy Gillespie, Sammy Davis Jr., Maya Angelou, Coretta King and others. LyBensons will also feature an exhibit of historic posters by Jonathan Green. Many local and Gullah Artists will be on display along with original and authentic African Art.
The non-profit Beaufort Art Association Gallery will be hosting a grand re-opening of the jewelry exhibit "Polished and Eclectic," with handmade sterling silver and vintage jewelry by featured artists Nancy Kates and Susan Palmer. (The show's original opening was scheduled during the tragic events and tornado watch of February 24.) The gallery will also have unique works by over 80 artists and artisans on display, including oil paintings, watercolors, pastels, photographs, prints, textiles, jewelry, and ceramic pieces. Not only will visitors have a chance to meet our artists; they can also get in the holiday spirit by sampling some Guinness Gingerbread.
The Gallery is pleased to offer a fun and stimulating show for Spring Art Walk. Featuring furniture designer Rex Hunter aka "Red Fish Rex" and painter Marlies Williams, the exhibit is a joint show titled "Naturally Inspired". Both artists are drawn to the natural beauty of the Lowcountry and harness their creative inspiration from their surroundings.
Gloria Dalvini and Sandra Baggette both have a passion for painting in the wonderful area that surrounds them. Both artists are founding members of the Lowcountry Plein Air Society and enjoy the challenges of painting out in various locations. The artists will be available to discuss their work and the plein air experience at Indigo Gallery. Martha Young's first painting was a gift to her granddaughter, Lilly, who affectionately calls her "MiMi". Thus, although her name is Martha Young, she signs her paintings "MiMi". Her paintings can also be seen at Indigo Gallery.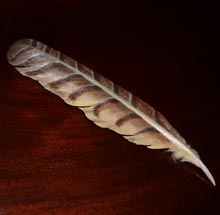 The Rhett Gallery will feature the work of the Rhett family, all talented artists. "Hawk Feather" is carved by William M. Rhett out of basswood and painted in oils. "Marsh Harbor" is an original watercolor by Nancy Ricker Rhett and "Gullah Cottage" is an original watercolor by William Rhett III.
ArtLofts is Beaufort's only working studio and gallery. It consists of the studios of 7 diverse artists – Pam Hagan, Susan Knight, Pat Schad, Mary Grayson Segars, Susie Stockholm, Susan Stone and Donna Varner. Visitors to ArtLofts will discover a bea
utiful, well-lit space where they can watch artists
at work or they can simply view the variety of different works on display. ArtLofts offers high-quality Lowcountry scenes, contemporary mixed media pieces, unique jewelry, altered books, creative photography, and more.
Bay St. Gallery will offer many visual and tactile delights. There will be paintings by Mary Segars, Kathy Crowther and Bill Mead. Nancy Pollock's sculptures will amaze with their profusion of detail. The silk purses by Barbara James are beautiful and collectible. Jo Ann Graham's lovely original silver jewelry will tempt you and Donna Kirkpatrick's fine art black and white photography rounds out this talented collection of Lowcountry artists.
Art Walk Galleries
Charles Street Gallery – 914 Charles St.
LyBensons Gallery and Studio – 211 Charles St.
Beaufort Art Association Gallery – 1001 Bay St.
Rhett Gallery – 901 Bay St.
The Craftseller – 818 Bay St.
Indigo Gallery – 809 Bay St.
The Gallery – 802 Bay St.
Bay Street Gallery – 719 Bay St.
I. Pinckney Simons Gallery – 711 Bay St.
USCB Center for the Arts – 801 Carteret St.
ArtLofts – 208b Carteret St.