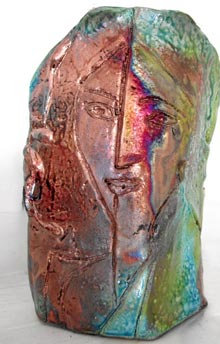 "The clay whispers, and I listen." – Susan Ellzey
From July 11 through August 20, the Beaufort Art Association will feature "Sea and Symbols," the raku art of Susan Ellzey. An opening reception in honor of the artist will be held on Friday, July 15, from 5:30 to 7:30 at the BAA Gallery, located at 913 Bay Street. The public is cordially invited.
Susan Ellzey began working with clay and raku firing in 1996 when she retired. The world of clay and raku firing continues to be one of discovery, joy, and experimentation
for her.
All of the raku works in this exhibit are hand built. The raku firing itself—the post-reduction process—yields exciting and unpredictable results. The theme of sea
and symbols is apparent in the unique fish, shells, and driftwood; the masks, figurative sculptures, and the suspended and stacked works often evoke myth, legend, and literature.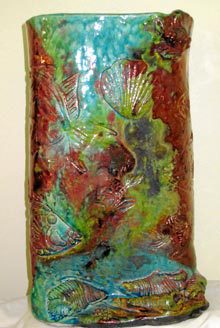 Ellzey rarely creates a work that she has planned in advance. "The clay whispers, and I listen." Then the clay leads her. "I may plan to make a fish or a cachepot, but as I work with the clay, a figure emerges—perhaps a mask or a goddess." Working in clay, Ellzey says, forces her to experiment and to work intuitively. Clay "expands my creative instincts and enables me to immerse myself in the creative process."
Although largely self-taught, Susan Ellzey has participated in workshops with Rick Berman, Patricia Hankins, Joe Bova, and Jerry Maschinot. She had her first show at
Gordon College (University System of Georgia) in 2002, and she was featured 3-D artist in 2005, 2007, and 2009 at the Art League of Hilton Head. This is her second show as the BAA's featured artist. Susan Ellzey, who was an English professor and college administrator, has a PhD in Renaissance Literature. She says that her background in literature enables her to recognize the sculptures and tableau images that emerge from the clay.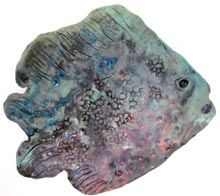 Creating with clay is more than just a joy: the creative process – especially with raku – is therapeutic, soothing, and restorative. Susan was diagnosed with cancer, a DVT,
and pulmonary embolisms in 2010. "During the last ten months of surgeries, chemotherapy, and radiation, I have survived and endured in part because I have immersed my hands and my being in clay—lived in the moment—thought about the work for this show."