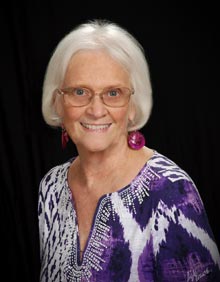 Linda Sheppard, a Beaufort artist, will hold an exhibition of paintings of her private students from October 1 through October 31 at the USCB Center for the Arts.
      Linda began teaching art in 1970 in Denver, Colorado. She is particularly interested in teaching art and holding interdisciplinary shows that connect art with other creative endeavors. In the past she has invited a ballet studio to pick several paintings of her students and develop interpretative dances to catch the spirit of a few of the paintings. The dances were the program at the art opening. Other times, Linda has visited high school English classes. She gave one class a theme of "Friday." She painted a Friday painting and the students wrote poems or some essays to express Friday. In another English class each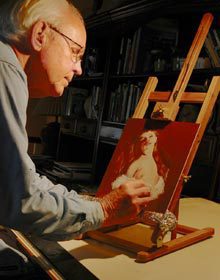 student chose a photo of one Linda's paintings and wrote a poem to express the idea of the painting. These were all exhibited with the original paintings.
     In this particular exhibit, Linda has painted a portrait of each of the students. The portraits vary in media: black and white pencil, wash pencil, oil, pastel, pastel and watercolor and black and white charcoal.
    This particular exhibit will include paintings of six students she works with. Student ages range from 12 to 76. One woman comes from England to her home on Spring Island in the fall and spring. She works with Linda each week she is in Beaufort.
    Al Leitch comes from Columbia, SC each week for a six-hour lesson. He sent her images on the internet for her to critique and then decided to make the long trip. He works in landscape. She helps him make more painterly decisions, in order to get away from painting every leaf and coping the photograph. He is a realist but he now makes many composition, color, and value decisions.
      Mike McNally, Beaufort (above), is a people painter. He paints friends relatives, and people who are special in his life in a variety of dry media. Danielle Hamner is a junior at Beaufort High School. Linda and Danielle have been working together for about two years. Maris Staley is an 8th grader at Beaufort Academy and incredibly talented. She has been taking weekly lessons for about 6 months. She works in pastel and oil. Lizeanna Stone (Liz) worked for a month this summer to learn basic oil painting. She is an art major at USCB.
       Linda Sheppard has been teaching art for 45 years, to children and adults. She had her own after school art school in Pleasantille, New York. She has won multiple national awards including the Gold Medal of Honor (top award in pastel) from the American Artist Professional League, awards in Pastel Society of America, Hudson River Association and many major shows over the years. Recently, she was a finalist and featured in the Artists Magazine, the Portrait Society magazine, and this week was notified that she was a finalist out of 7800 entries worldwide from the Artists Magazine. She was surprised, because she didn't enter that competition. The editor said they found her painting "Woodcarvers" and entered it. She said she would probably be featured again later this year in the magazine. Linda is primarily a portrait artist. But she enjoys painting in Europe and the Lowcountry in a variety of media. Her work can be viewed in her home by appointment or at the BAA gallery.
                  Meet Linda Sheppard and her students at an opening reception on Friday, October 16 from 5 – 7 pm at the USCB Center for the Arts.