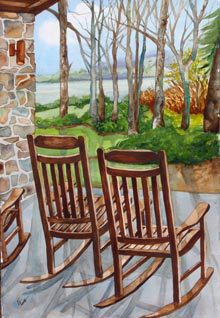 Ellen Long will be the featured artist at the Beaufort Art Association Gallery from Sept 16 – October 27. The public is invited to meet the artist at a reception on Friday, September 21 from 5:30 – 7:30 pm. Here's what Long had to say about her work and her new exhibit, "Views from my Window"…
"While art has always been an important part of my life, it wasn't until relocating to Fripp Island, SC in 1996 that I was able to devote full time to this passion. Watercolor classes with Gloria Dalvini and my new-found friends in the Beaufort Art Association inspired me to explore new directions with my art.
"The views from my window on Fripp Island offer endless inspirations for new and exciting paintings. Scenes may include nodding sea oats, children throwing cast nets in the tidal pools, shore birds stalking breakfast in the shallows, shrimp boats trawling near the shore and pelican formations overhead. I am awed by the incredible light from early morning sunrise over the ocean to that beautiful golden glow that occurs just before sundown. The camera also serves as my "window frame" for subjects of future paintings. Reference photos sorted by category take up several shelves of my studio. Each new scene is a painting waiting to happen.
"My twenty three years in the field of Interior Design greatly influence my paintings. The design of the painting is similar to the design of an interior space, as it includes careful placement of the elements to create a focal point, pleasing color transitions and a balanced whole. I develop the drawing for each painting on the same rolls of tracing paper used in architectural drawings for design projects. This allows me to make changes in perfecting the finished plan without damaging the surface of my watercolor papers. Finished drawings are then transferred to the watercolor paper using my ocean front window as my light box.
"Watercolors offer a transparency and visual blending of layers of color that can not be achieved in other mediums. "Divine accidents" often add to the most careful planning of the artist. They keep me engaged while not totally in control. Hopefully, the finished paintings exhibit my initial excitement in the 'views from my window'."