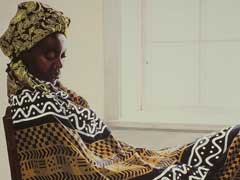 Artists William Kwamena-Poh and Donna Ireton have chosen to honor their divergent heritages in their exhibit opening with an artist reception on Oct 12 at 5-7pm at the Art League of Hilton Head Gallery.  The show runs through Nov 6.  For details call 843-681-5060 or visit www.artleaguehhi.org
William Kwamena-Poh was born in Ghana and now lives in Savannah.  Ireton was born in upstate New York, and is of Dutch and Irish ancestry.  Kwamena-Poh's paintings reflect both his African heritage and the Black American experience, while Ireton's pine needle and driftwood wall hangings, sculptures, and baskets are created using natural materials and coiled basketry techniques, much as our ancestors did.  Together, their art honors their ancestors and their traditions, culture and heritage.
Kwamena-Poh has b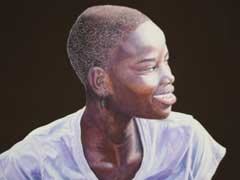 een creating his life-like works since 1980 when he arrived in the United States.  He paints with gouache, also known as opaque watercolor, the same medium used by the late African American artist Jacob Lawrence, and experimented with by Dali, Picasso, and Klimt. His work is done primarily using a dry surface instead of the wet on wet watercolor technique.  As a self taught artist, his process was developed accidentally as he did not realize that in watercolor, wetting the paper is important. Originating from Ghana, West Africa, where the sun's strength is ever present, providing a colorful environment which is strongly reflected in the clothing and culture. The density and opacity of gouache allows him to give the viewer a small window into this wonder-filled land.
His works have graced the sets of TV shows such as the "Cosby Show", "South Central", and "Motown 30", and the motion picture "Losing Isaiah".  His works can also be found in corporate collections such as Amoco, Prudential, Ford Motors, and Disney and are collected by private and well-known public figures throughout the States and abroad.
After graduating from Talladega College in 1984, he lived in Washington, DC for a year, and in Chicago for ten years, where he opened his gallery, Osibisa Fine Arts, in 1993.  He now resides in Savannah.
Donna Ireton is presenting a selection of natural baskets in both traditional and contempo
rary design, as well as a number of wall hangings and sculptures in modern design and bright color.  Ireton encourages people to touch and hold her creations:  "They're made to be touched," she says, "and the sensual touching experience adds to the visual experience."
Ireton notes that coiled basketry has been around as long as people have been hunters and gatherers.  All of Ireton's pieces are created in honor of our ancestors who made utilitarian pine needle baskets to store food, medicines, clothing and other items.  Predating the development of pottery, pine needle baskets were useful containers for almost anything, especially since they can be water-tight.  The coiled basketry technique can be used with any material that is flexible enough to bend.  There are no upright supports in these baskets–the stitching material gives the basketry its strength and durability.
While many Native Americans created pine needle baskets, Southeastern tribes such as the Seminoles found long leaf pine needles to be especially useful.  Ireton collects her needles locally and cleans them in hot soapy water with a touch of bleach.  At least half of her creations feature the bright colors obtained using fabric and leather dyes.
This exhibit is a must for Island art aficionados! — The work of Art League members will also be showing in the Gallery.  The Art League of Hilton Head is a not-for-profit membership organization dedicated to promoting and supporting the visual arts. It operates a Gallery for the display and sale of artwork by its members.  The Gallery is open Monday-Saturday, 10:00 a.m. till 6:00 p.m.  For more information call 843-681-5060 or visit our website www.artleaguehhi.org