artifact [ahr-tuh-fakt]
something created by humans usually for a practical purpose;
fiction [fik-shuhn]
An imaginative creation or a pretense that does not represent actuality but has been invented.
Rusty sheets of metal. Peeling painted boards. Rusted motor parts. Old printer's blocks. All these things and more have found their way into Caroll Williams' assemblage art and Donna Varner's photography.  
Their show, [arti]Fact & Fiction, beginning July 6th at the Art League of Hilton Head's Walter Greer Gallery, is an exploration of their mutual passion for everyday cast-offs of modern society.
Caroll Williams sets herself the challenge of working with
these aged and decaying materials as she finds them. She assembles them into something quite different from their original use while leaving them still recognizable. As such, her approach to working with found objects is simple: do as little as possible to them. In that way, the qualities that originally attracted her to them—the weathering and quirkiness–continue to shine through. In her 'Rulebook,' combining them with other aged elements is okay. Painting, gussying them up in other ways, or somehow changing their nature is pretty much off limits.
Donna Varner gives the same (or similar) artifacts a photographic twist. Details of familiar objects—wooden dominos, dolls, scrabble tiles, chessmen, rusty gears–are photographed both at close range and in still life settings with an appreciation of their inherent design elements of shape, pattern, line, and texture. Anyone looking at her work will see a story or a puzzle, often with a humorous bent. She compares her creative process to that of a novelist. "As a storyteller, I'm leaving room to read between the lines; I'm posing a mystery to solve; I'm turning or twisting a visual phrase."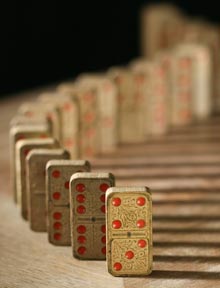 To add to the intrigue, she experiments with different ways of presenting her photographs. Some are printed in a conventional manner on canvas or paper while others are shaped in unusual configurations using an underlayment of fiberglass resin.
Both artists encourage viewers to engage in the creative process, using their eyes and imaginations to wander into the art and make up their own scenarios. After all, this inventive art is all about dreaming up fiction and stretching one's imagination to look beyond the ordinary and make it extraordinary.
[arti]Fact & Fiction runs from July 6-30 at the Art League of Hilton Head's Walter Greer Gallery located at the Arts Center of Coastal Carolina, 14 Shelter Cove Lane, Hilton Head Island. Artist reception is July 7th from 5-7 PM.   Public welcome. 843-681-5060. www.artleaguehhi.org