During October the Art League Gallery features Scenic Moments, oil paintings by Roy Rupy & The Spirit of Hilton Head, three-dimensional works by Susan Knight.
The show opens with a reception on October 13, 5-7 pm at the Gallery in Pineland Station and runs through November 8. The Public is invited, come and meet the artists!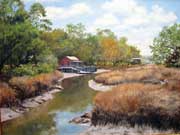 Roy Rupy renders his Lowcountry landscapes in astounding detail. His delicate realism lends a vibrancy to his compositional elements that remains unparalleled on the local art scene. Often he depicts sunsets right from his Island residence or views, such as picturesque old shacks, the marsh and the majestic oak trees, from forays into the local surroundings. Hardly ever does he feel the need to leave Hilton Head Island for locations in the county. Roy has developed a local following and his works are being collected all over the country.
Roy Rupy's childhood in New York City was spent with pencil and paper. An artistically gifted boyhood friend helped Roy to appreciate the beauty found in nature on the marshy shores and winding creeks of Jamaica Bay. His skills were honed on long subway rides to Manhattan's High School of Music and Art. However, during Roy's career with New York City's Finest his artistic progress was put on hold. Upon his retirement from the police force Roy moved to Arizona and returned his focus to the art world. Working in oil and watercolor, he landed a position as a painting instructor, won awards and began a successful career as an artist.
In 1996, the marshes called him to a new home on Hilton Head Island. The beautiful tree framed shoreline brought the artistic subjects of his boyhood past back in all their beauty – and here with unceasing inspiration, he feels at home.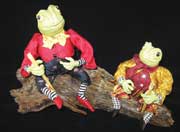 As the featured artist Susan Knight enjoys the opportunity to introduce her newest creations in three-dimensional art. Using her love of fabric and clay (paper clay or polymer clay), Susan has created one-of-a-kind figures of irresistible appeal.
"It may be the local fisherman or a bird in human form that I use to embody the Spirit of Hilton Head," explains Susan. "I could not do this without the help of my husband, Don, who builds the armature of wood and wire along with a polished hand-turned base of local woods," she admits. Their whimsical charm and intricate characteristics are only paralleled by their precious accessories and Susan's eye for attention to detail.
As an interior designer in earlier life Susan enjoyed the challenges of layering the textures of fabric, furniture and color. She has artfully transferred these skills to creating her mixed media works: "Each day as I bike through our Lowcountry scenery I am inspired to translate my love of nature, textures and color into my mixed media artwork."
Several of the figures sport a piece of silver work to lend expression to Susan's love of silver. Her silver creations began in 1998 when she took her first class at the John Campbell Folk School in North Carolina. She has recently created a wonderful studio to work in and could spend all her time there creating one-of-a-kind neck pieces and, yes, some great silver and clay bugs. Her neck pieces reveal her knack for design and hand forging (hammering), chasing and repoussé – the process of giving metal texture. The precious bugs result from Susan's playful side introducing color with polymer clay and the challenge of silver.
Visit the Art League Gallery to see the faithfully rendered Lowcountry oils by Roy Rupy and Susan Knight's elegant, charming and unique mixed media pieces. Or, you may find an irresistible work among the exhibit of over hundred Art League member artists also showing their works in all media.
The Gallery is open Monday-Saturday, 10:00 a.m. till 6:00 p.m. For additional information contact the Gallery at 843-681-5060 or visit www.artleaguehhi.