Hardly. The Sons of Confederate Veterans are alive and well… and they're having a ball!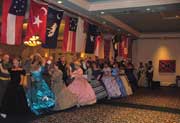 On October 25th, the Gentlemen of the Gen. Richard H. Anderson Camp #47 of the Sons of Confederate Veterans will be hosting Beaufort's grandest period formal event, their Southern Autumn Ball.
The ball will be held in the Carolina Room at the Holiday Inn located at 2225 Boundary Street in Beaufort. Festivities will commence with a social hour at 6:00 pm. A lowcountry buffet dinner will be served at 7:00 pm in the Carolina Room with the Grand March and dancing to follow from 8:00 pm to 11:30 pm. Marine Gunnery Sergeant and Mrs. Jeffrey L. O. Holliday of Camp Lejeune, NC will be this years Grand Marshals. Music will be performed by the period band The Rebelaires.
Ladies and gentlemen, Period Wear is Requested, Formal Wear Required. This event is one of Beaufort's most enjoyable gatherings and attendees in the past have come from many states. It is open to the public and we encourage you to join us for an evening you will never forget.
The price is $60.00 per person. A cash bar will be available. Mail checks made out to: Gen. Richard Anderson Camp #47 to Michael Keyserling at 100 Meridian Road, Beaufort, SC 29907. Reservations must be made by October 20th. For more information contact Michael Keyserling at 843-322-0299.