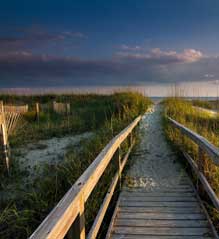 The Photography Club of Beaufort is currently showcasing its Best of 2013 in a new location: The front salon gallery at ARTworks in Town Center. The exhibit will run through the end of January.
(On our cover: 'Beach Path' by Lamar Nix)
 Each Photography Club of Beaufort member was asked to present his or her very finest image taken this past year. The exhibit features color and black & white. Subject matter includes landscapes, birds, animals, trees, portraits, abstracts and still lifes …all presented for public display and sale. ARTworks business hours are Tuesday – Friday from 11am – 6pm and Saturday from Noon – 4pm. For more information, visit www.photoclubbeaufort.com.