New exhibit at Morris Center celebrates unknown histories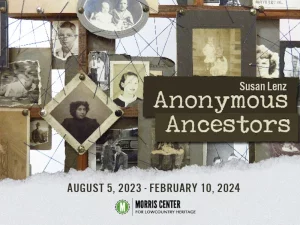 Morris Center for Lowcountry Heritage is pleased to announce Anonymous Ancestors is coming to its Sinclair Gallery August 5, 2023, through February 10, 2024. In this site-specific installation, artist Susan Lenz uses hundreds of anonymous vintage photographs, letters, and printed materials to form a societal family tree.
Through unnamed subjects, the interactive display presents nostalgic images and stories that are both familiar and unknown. Lenz culled through yard sales and thrift shops to create pieces that make up our collective wall of ancestors and much more. Her works include photo collage Folding Screens, an antique sculptural garment, altered photo albums, scrapbooks and The Wall of Ancestors composed of individually framed images.
Lenz teaches fiber arts workshops and has taught at Arrowmont School of Art and Design, Lander and Slippery Rock universities, the Society for Contemporary Crafts in Pittsburgh, PA, the Arts Alliance of St. Louis, the Studios of Key West, the Museum of Quilts and Fiber Arts in Cedarburg, WI and elsewhere. Anonymous Ancestors has been shown at numerous galleries and museums across the southeastern US.
Her work has also been selected for national and international group exhibitions, earned merit and purchase awards, and been included in corporate and museum collections, most notably the Textile Museum in Washington, DC.
The Morris Center is open to the public Tuesday – Saturday from 10:00 a.m. to 5:00 p.m. For more information, please visit www.morrisheritagecenter.org.
About Morris Center for Lowcountry Heritage
Located in the heart of downtown Ridgeland on US 17, Morris Center for Lowcountry Heritage is a learning and exhibition center dedicated to preserving and cultivating the history, culture and spirit of Ridgeland and its surrounding counties. Housed in a collection of vintage buildings, with the architecturally distinctive Sinclair Service Station as its focal point, the center features ever-changing exhibitions, interactive and dynamic learning opportunities, cultural offerings, storytelling and other forms of art.