Oils and  pastels by Laura Cody at the Art League Gallery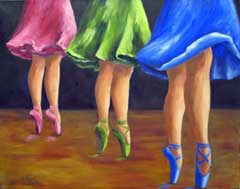 Double the Pleasure – recent oils and pastels by Laura Cody – is opening with an artist reception on Tuesday, April 13, from 5 – 7 pm at the Art League of Hilton Head Gallery located in Pineland Station Atrium, Suite 207, Hilton Head Island.  The exhibit runs through Saturday, May 8.  The public is cordially invited. 843-681-5060 or www.artleaguehhi.org
When Laura Cody moved to the Lowcountry in 2001 she discovered, "the artist in me exploded with a passion.  Everywhere I looked I saw beauty and I was determined to capture that beauty with my art." She is exhibiting twenty pieces of her recent work.
Cody brought a novel concept to her show "Double the Pleasure."  Her exhibit consists of a number of paintings which have been painted in both oil and pastel using the same image. She states "I equally enjoy painting in both mediums and often when I finish a painting I wonder what it would look like, if it was painted in the other medium. I thought comparing the two mediums that way should make an interesting and fun exhibit."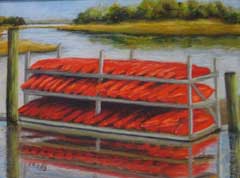 And the difference between the mediums is striking, as we can see in A Night at the Ballet.  The oil painting appears in intense hues and glowing colors, whereas the pastel version shows softer, lighter forms in muted light.  We can see this again in Ready for Fun, canoes stacked up ready for hire.  In Shady Path, a marshscape, the oil is rendered in vibrant greens and the sunlight pierces the shadows. An inviting beach scene depicted in Ocean Front (oil) shows subtle color highlights to keep a peaceful atmosphere.  Cody uses vivid color and abstracted forms in her portrayal of landscapes, seascapes and Lowcountry life.
Cody also finds painting portraits very rewarding and has done realistic renderings of children, adults and pets.  A well known artist in the Lowcountry, Cody's work is hanging in private collections throughout the United States.  Her paintings can also be seen at the Fordham Market, Beaufort, Pluff Mudd Gallery, Bluffton, Gallery 209, Savannah, and Mangos, Fripp Island, SC.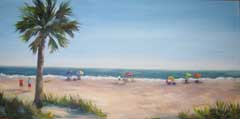 Laura Cody was born in New York City and has lived in a number of cities throughout the United States before retiring with her husband Bill, to South Carolina.  Laura has always had a love for art. She managed to squeeze in art classes and workshops while juggling a 25 year career in the medical field and raising three children.
The work of other Art League artists is on exhibit as well.  — The Art League of Hilton Head promotes and supports the visual arts through education, exhibitions and partnerships for the cultural enrichment of the community and its visitors.  It is a not-for-profit 501 © 3 organization. The Art League also holds classes at the Art Academy on Cordillo Parkway.  Art exhibitions at the Gallery in Pineland Station are changed monthly and the artworks of over 150 member artists are displayed and available for sale at all times.  For more information about the show check the website at www.artleaguehhi.org or call the gallery at 843-681-5060.