Paint with the Artist, create your own canvas as you paint along side one of our well established artists.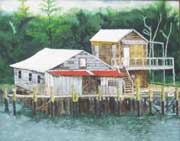 Paint with the artist sessions will be going on during the month of August beginning on August 10th at the House of Ahhs, 1109 Boundary Street, Uptown Beaufort. Sessions will continue every Wednesday and Sunday till the end of August with a theme of having fun while being creative.
Hampton County's own Barbara "Bobbie" Lindsley, winner of the Watermelon Festival's Art Award three years running and designer of the July cover of Pink Magazine will be waiting to paint with you. Bobbie is also known for beach dancing ballerinas and lowcountry scenes. Come paint along with Bobbie as the canvas comes to life with color and imagination.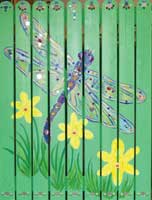 Don Lehman can take you on a walking tour through Beaufort during working hours as well as guide your tour through paint and canvas when you "Paint with the Artist." Lehman is known for his large canvases along with hand built tables, garden gates and furniture pieces, many of which are painted and bejeweled and decorated with found objects. Don, a man of many talents, can also be found playing the blues at Kathleen's on Monday nights or heard in print in the Lady's Island News. Come paint with Don Lehman and be amazed at the path your canvas may follow.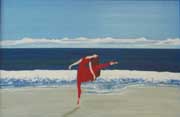 The realism of Richard Guffy's paintings make you feel as though you are standing on the pier of Sam's Point Landing, walking the docks at Edding's Point or waiting in the doorway of Hemingway's. Imagine what you will feel as you paint your own canvas along with Richard, creating lasting memories that belong to you alone. Don't be surprised if Richard provides music to paint by, as the musician in Richard is hard to suppress. The outcome is sure to provide you with an everlasting canvas of the Lowcountry.
"Paint with the Artist" sessions starting August 10th and continuing each Wednesday from 10:00 A.M. to 12:30 P.M. and Sundays from 3:00 P.M. to 5:30 P.M., at the House of Ahhs, 1109 Boundary Street, Uptown Beaufort. For information and reservations call 843-379-1800.