Lowcountry Weekly's Mark Shaffer descends on Frogmore, camera in hand
We who consider ourselves travelers tend to cringe at the word – tourist – and the clichéd associations that cling to it like remora to a shark. We take pains to avoid the image of the map toting, cigar chomping guy in the porkpie hat and four alarm Bermuda shorts stumbling around in black socks and penny loafers.
Not that there's anything wrong with that.
No. We're far too serious about blending in, becoming part of the scene rather than just an observer. We're not here for the ice cream so much as to find out how it's made and why people keep coming back for more. And even though we may be fortunate enough to actually live in a place that depends heavily upon the tourist dollar to keep our water running and our air conditioners humming, we often pretend to be beyond the magnetic pull of whatever it is that keeps drawing these crowds year after year. Carriage rides and river tours are beneath us, right? And then again like that reluctant traveler, Dorothy Gale , sometimes when we go looking for our heart's desire we needn't look any further than our own back yard. Therefore, as a traveler I intend to become more of a tourist – at least closer to home. I'm not talking water parks and golf courses – not just yet, anyway. But you never really know.
As I nurture my Inner Tourist I encourage you, dear reader, to nurture your Inner Traveler. Fuel is expensive and life is short, so the next time you pass that unexplored country road hit the signal and take a chance. Let me know what you find.

The Big Idea
Once a month or so your intrepid reporter ventures out of the confines of his hermetically sealed, climate controlled lair to do what Ed and Irma from Columbus do when they come to the Lowcountry with total disregard for heat indices, UV exposure and potential caloric intake. I'm just that kind of guy (hence the clever title). And while I generally try to include as many outdoor activities as possible (see previous heat/UV references) it's recently come to my attention that the Average Tourist – regardless of location – spends a great deal of time indoors. Astonishingly, much of this time is devoted to spending money on things they don't need. I once saw a full sized Roman chariot and matching slave cart for sale in Santa Fe, just the thing to complete the gladiatorial theme in the den.
But I digress.
It seems even the gilded black hole of tourist dollars, Las Vegas, has noticed this trend and exploited it at warp speed. As a reporter there at the approach of the millennium, neither the looming threats of Y2K or terrorism were as alarming or potentially influential as an economic impact study that literally rocked the Strip. The figures showed that by the close of the last century shopping and entertainment had usurped gaming (Vegasese for what normal people call "gambling") as the undisputed ruler of Sin City. In other words, Ed and Irma – but mostly Irma and her friends – were spending more time plundering the Forum Shops at Caesar's than at the tables actually being plundered by Caesar's as Nature had clearly intended. You can guess what happened next. Yep, they imploded all the casinos and built one giant air conditioned indoor mall. Not really. In fact, no. But Caesar's doubled the size of the Forum Shops (already the busiest mall on the continent) and every other mega resort thereafter has followed that lead.
Frogmore bound
First of all, there's absolutely nothing wrong with buying things you don't need. In fact, I'm pretty sure most of the world's economy is now based on this concept. I for one am obsessed and fascinated with things I don't need. My wife tells me this all the time. Do I listen? Of course. Does it prevent me from buying that which she deems unnecessary? Don't be silly. All of this might prompt a lengthy philosophical debate on just what need, necessity and desire encompass. But we'll save that for the bar article and move along.
As I break out of the creeping urban clutter of Lady's Island onto this freshly paved stretch of the Sea Islands Parkway (SIP), storm clouds have begun to mass in the East. Heat and humidity are indistinguishable. The air feels like a heated pool at the Last Chance Resort. It's a good day to be indoors.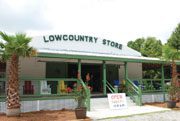 I've had my eye on the old tomato packing plant on the edge of the St. Helena community of Frogmore most of the spring and summer. It's been wrapped in an on-going state of renovation all season. Today the carpenters, painters, ladders and saw horses are gone, replaced by a crowd of brightly colored Lowcountry Chairs lining the front porch beneath the gleaming new tin roof . I've happened by on opening day and the parking lot's full – always a good sign. Inside the space is big, open and airy with plenty of possibilities for expansion. Ceiling fans blend the individual aromatics from bushel baskets of fresh potpourri into a single lush aroma. It's intoxicating – and I'm not really your potpourri kind of guy.
Owner Ed Jerue isn't originally from the Lowcountry, but he seems to have a pretty good idea of what should go into something called the Lowcountry Store. He manufactures the Lowcountry Chairs – a simple, angular rethinking of the Adirondack style.
"We want it to be like we would envision a Lowcountry store with as many Lowcountry products as possible and as many handmade and locally grown products as possible," he explains. Local painter, Laura Cody already has a front corner filled with her work and the familiar jars of chutneys, relishes, soups and sauces made by award-winning Lowcountry Produce of Lobeco occupy prime space. Ed's also proud of a line of "green" stuffed animals including the Monkey Island Monkeys. The chimp comes with a removable flax seed bag that can be chilled or heated, depending upon the season. This primate's hypoallergenic, to boot. There are also nods to the indigenous Sea Island wildlife: sea turtles, alligators and – naturally – a Frogmore frog.
Ed sees the Lowcountry Market as a hub for all things local, including art, crafts, produce and more. The inventory's not all local, yet. But that is the goal. Eventually, Ed hopes everything in – and around – the market will be true to the name over the door. Look for the addition of a weekend farmers' market in the days ahead. "We have organic growers as well as other produce growers, and then different arts and crafts people. What we plan to do is have the farmers' market on Fridays, Saturdays and – perhaps – Sundays, and have the local farmers and local artists come and position themselves around the main building."
Capt. Steve of Capt. Steve's Seafood has already staked claim to a plot near the main entrance to the property. He used to haul his fresh-caught shrimp and crabs all the way to Columbia. Stratospheric fuel prices prompted a more cost-efficient business plan. Today he's got his coolers iced down under a tent alongside the SIP and traffic has been steady.
"How's it going so far?"
"So far, so good," he says matter-of-factly. "First day. I'm just testing out the waters, but business has been pretty good. Pretty good."
I've got my eye on one of Ed's chairs, but it's too big for the family truckster and this sort of purchase requires full committee approval, meaning Mrs. Shaffer – and the dog.
What's In Store
"I think we're unique out here," says Robbie DeLoach, co-owner of What's In Store, ten rooms of seemingly random funkiness in the rambling old former general store and post office building. "We're a very artsy little community – just fun, you know? Kind of oriented to the beach. We have something different than downtown. It's a real island feel."
A hand printed chalkboard atop an aqua marine tinted bamboo TV tray advises customers to "buy yourself something." But what? It's… it's all so overwhelming. Each room is a different theme, sometimes broken down into sub-themes. "We have a kitchen area, a garden area, a children's section…" she pauses as if momentarily disoriented by the immensity of her own shop, "…a bar room for bar ware, we carry apparel – just about some of everything."
As if this isn't daunting enough Robbie and store manager, Dave Eggen, are constantly turning over and changing the themes and inventory from room to room. As Robbie takes me through the maze of merchandise, I briefly tune out, lost in a weird reverie. It's like floating adrift in an ersatz rainbow of idle daydreams. Just look at all this stuff. To try and describe the contents of What's In Store would be comparable to reciting Noah's inventory list. We just don't have the time.
"Do you get bored easily?"
She laughs, "yes! Extremely. All the time. But it keeps people interested, always keeping it fresh, keeping it moving."
That's my cue.
"The nice thing about folk art is that it makes art affordable for just about everybody," explains Mary Mack. Her gallery in Frogmore's historic farmers' co-op building has pioneered that philosophy for two decades. The RPT is both St. Helena's unofficial museum of Gullah art and culture and a launching pad for local self-taught artists, many of whom are (happily) no longer so affordable.
But there are always more waiting to be discovered, campaigning for a coveted slot on the wall in Mary's gloriously crowded space. Johnny Griner is Mary's latest "discovery." The Walterboro native grew up shining shoes in his father's barbershop and began drawing in his teens. After years in the landscaping business, Griner is the RPT's current bestseller with a whole corner of the gallery to himself. Mary concludes the previous thought, "you can buy a whole wall of Johnny's art for what you could spend on one [fine art] painting."
Mary is mentor as well as broker. "I feature a lot of indigenous artists, a lot of art reflecting the Gullah lifestyle. I think it's important to have a gallery that honors the people of the area." At any given time the RPT may house the works of 150 artists in what Mary understates as "eclectic." The works of re-known fine artists like John Davey and James Denmark share the space with W. Jay Wilkie's whimsical watercolors, and Helen Stewart's Grandma Moses-like "memory paintings" – each piece has a corresponding story as a frame of reference. Cassandra Gillens' striking scenes of Gullah life were influenced by the groundbreaking work of Jonathan Green . Cassandra's daughter, Shaviance Mitchell , is the youngest of the next generation. Her simple, yet elegant watercolors depict the every day of local life – a fisherman flings a swirling gossamer net, a girl skips rope, a boy dives into a marsh creek.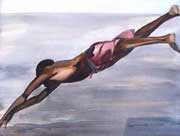 A six foot tall Bobo tribal mask from Burkina Faso, Africa is striking in it's cultural juxtaposition to the Rev. Johnnie Simmons' Gullah woodburnings.
I'm not what you would call a gallery rat. Most of my wine and cheese consumption is done outside of openings and art walks (although if there's a good cabernet and a stinky wedge of Camembert , count me in). But this transcends the usual gallery experience – and by "usual" I refer to what I like to so callously term the Designing Women Effect whereby the potential clientelle are usually more interested in selecting a piece to match the sofa rather than the actual collecting of art for art's sake. Visiting the Red Piano Too seems less about the retail possibilities and more about the cultural aesthetics. It's like brousing a vast and wonderfully casual private collection where everything is potentially within reach of your wallet.
Before I know it, time has slipped away. I've been utterly absorbed in Mary's soft narrative, lost in the vast richness of color, shape and texture. A customer's voice brings me back to earth, "this is more fun. I can afford things in here."
I leave with a small framed Wilkie – my first official piece of local art – and a feeling that the Backyard Tourist has barely scratched the surface of Frogmore.
Epilogue
In the end it's not really about necessity versus desire. It's about what pleases us and makes us happy. Art is not considered a necessity by more austere standards (see the former U.S.S.R.) and yet even if we are blissfully ignorant of its presence, chances are we'd take note of its absence. Whether it's a piece of furniture or a few pounds of shrimp from the Lowcountry Market, a Pirate-Opoly board game or a Vera Bradley bag from What's in Store or an original work by any number of St. Helena artists found at the Red Piano Too, whomever the buyer may be they will take home a memory of this very special place and time.
Now, if you're doing a Gladiator-themed den I have a number for you…