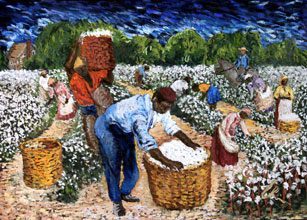 The Society of Bluffton Artists welcomes it's past living presidents as the featured artists in September at the SOBA Gallery. These nine talented people will have a wonderful and varied collection of their recent work to share from now through October 2. 
The Society of Bluffton Artists (SOBA) began in 1994 with a handful of artists meeting monthly and displaying their artwork at Bluffton's Town Hall once a year. Lynda Potter was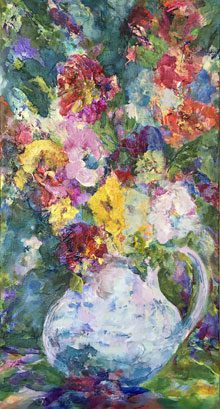 the very first president of that initial tiny group. By 2001 Helen Evans had a goal to create a new Gallery for the growing membership. With the help of Bluffton's Town Council and several SOBA members, that goal became a reality in 2002 when the former Bluffton Library was repaired and converted into an exhibiting space for their 35 members. The Society thanked the community by offering free after school art classes for 4th and 5th grade students, and by implementing a scholarship program for high school seniors. The Society also applied for, and was granted, non-profit status in 2002. In 2003 SOBA initiated the first ever "Old Town Art Walk." This highly successful event is still a Bluffton favorite, happening three times each year. In 2012 SOBA moved into their current Gallery location at the corner of Church and Calhoun Streets, and two years later opened the Center for Creative Arts classroom facility, where classes and workshops are offered, encompassing many art mediums and techniques for beginner to experienced artists. There are now 185 SOBA members with over 100 of them exhibiting art at the gallery regularly!  
Please come celebrate these nine artists who have given so much of themselves to our art gallery and community. They are: Lynda Potter, Dee Johnson, Helen Evans, Emily Wilson, Terry Brennan, Dave Dickson, Chris Clayton, Sandra Wenig and Marian Sanders, each in their own way helping make SOBA the great organization it is today. Enjoy their work as well as that of the other member artists at the opening wine reception on September 9 from 5 – 7 pm.  
The SOBA gallery is open from 10 until 5 pm Monday – Saturday and Sunday from 11:30 am – 3 pm, and is located at the corner of Church and Calhoun Streets in Bluffton.
 For more information visit sobagallery.com or call 843-757-6586.
 
Above: "Somewhere on Hilton Head @ 1853," by Chris Clayton & "Full of Life," by Lynda Potter