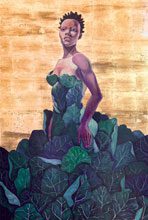 Natalie Daise's exhibit 'Greens in the Community Garden'is on display at USCB Center for the Arts now through February 20. A lifelong visual and performing artist, Natalie's work is inspired by heritage and community. Collard greens, which appear in many of her paintings, connect her to her father and tie in to family gatherings, stories and deeper connections. 
Lowcountry residents know Natalie as the former star of Nickelodeon's 'Gullah Gullah Island' and, more recently, the one woman stage show 'Becoming Harriet Tubman.' She and her husband Ron raised their children Sara and Simeon right here in Beaufort, before moving up near Georgetown, where Ron is now vice president for creative education at Brookgreen Gardens. A creative dynamo – writer, singer, storyteller and actress – Natalie is now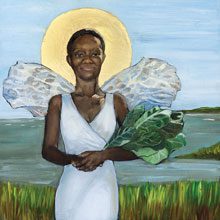 concentrating mainly on her acrylic and oil painting.
Adam Parker of the Charleston Post and Courierwrites, "Her paintings include elements of African iconography, food items, colorful garb, abstract designs, gold or silver or copper leaf and more than mimic a Byzantine style. But her real focus is on the people she portrays. Though she has no formal training, Daise has an innate ability to paint profoundly expressive faces and to connect posture with feeling. Consequently, she permits the viewer a glimpse into the mind and heart of her subjects." 
The public is invited to the opening of 'Greens in the Community Garden' on Thursday, January 24 from 5:30 – 7 pm. An Artist Talk, facilitated by Natalie's daughter, Sara Makeba Daise, will be held in the CFA auditorium at 6 pm that evening. 
The artist talk will be based on Sara's academic research and experience as an artist, celebrating  how women have used what they had to create not only what they need, but what their community needs as well. From Dakota women beading their culture together, to African American Women using story, thread and paint, the talk will celebrate the creativity, perseverance and vision of women. 
USCB Center for the Arts is located at 801 Carteret Street in historic downtown Beaufort. The exhibit is free and open to the public Monday – Friday 8 am – 5 pm. www.uscbcenterforthearts.com