D. Pierce Giltner will exhibit 30 of his unique and rare paintings in a solo show May 15 at Shell Hall in Bluffton, South Carolina. An opening reception honoring him will be held from 6-9pm, and is free and open to the public.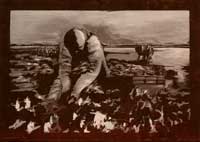 Pierce strives to capture southern heritage, preserving the past and presenting the future. His artwork is bold and powerful, telling the lives of black tenant farmers, bluesmen, and locals. His new paintings are done on rare salvaged tin from a derelict tenant house to create his first one-subject body of artwork. The subject is known as "Drack," who hand selects the East's most pristine oysters from the banks of the May River.
This show is Giltner's first exhibit, kicking off six solo shows, including Charleston's 2009 Spoleto. The show at Shell Hall will include food, drinks and live music.