Members of the Photography Club of Beaufort submitted their best images for the club's semi-annual (Spring) competition on Monday night, April 13th.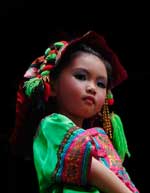 Judging the photos were professional photographers: Kenny McKeithan from Charleston, Stuart Lathrop from Beaufort and Ed Funk from Bluffton. Images were selected by considering each image's technical quality, composition and the impact that it created.
"Scatter," a photo by Bill Sheehan of Lady's Island was the winner in the novice category. Bill was able to capture the motion of the balls and yet freeze the moment in time. Great feat for a beginning photographer. The second place winner in that category was Ellen Corbett for "Geometry Lesson." Mark Carter, Nancy Kates and Sharon Reilly all had photos that tied for 3rd place in the beginners category.

The image that won the intermediate category was by Dr. Barry Wright, titled, "Xiaoli" (left). It depicts a Chinese girl from Cheung Chau that he photographed while on a World Health Organization mission to Asia. There were two second place winners in the intermediate category, also portraits, "Pretty Girl" by Nadine O'Quinn and "Lowcountry Gift" by Phyllis Kaupp-Seas. Third place winners were Suzy Wolf, Bonnie McDonald and Pat Keown.
In the advanced category the top prize was awarded to Sandy Dimke for her image "Dew Drops," a macro photo of a tulip magnolia (right). Second Place was "Dead Reckoning Navigation" by Lamar Nix and third place was awarded to Charlie Heyman for "Easy Being Green." {mosimage}
The club will complete against the Camera Club of Hilton Head and Sun City Camera Club on May 21st for their 2nd Annual Tri-Club Competition. It will be held at Magnolia Hall in Sun City at 7:30pm. The public is invited to attend.
The Photography Club meets on the Second Monday of every month in Building 22 of the Technical College of the Lowcountry. May's meeting will be a critique of Black and White photos. For additional information, please call 846-9580