It all began with a pen and ink artist out of New York. Harry Palmer was the first artist of the Palmer family, a well-known multi-generational family of artists. Generations later, Jim and Addison Palmer are collaborating with their Art League of Hilton Head exhibition, Generations, running May 3-28, 2016 with an Opening Reception on Thursday, May 5th from 5-7pm.
Jim Palmer, grandson of Harry Palmer, got his first major break at the young age of 16 when President Dwight D. Eisenhower purchased his painting on exhibit at the Masters Golf Tournament in Augusta, GA. Jim Palmer moved to Hilton Head in 1965 upon finishing study at University of South Carolina and Atlanta College of Art. Before Jim's focus became the Lowcountry scenes he is so known for today, Jim painted mainly in the abstract.
"From an early age, I have been drawing and painting the world around me," says Addison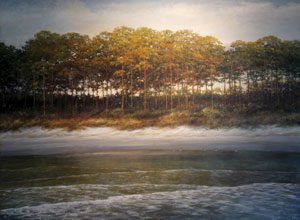 Palmer, son of Jim Palmer, who grew up on Hilton Head Island. A Brevard College graduate, Addison works as a full time artist while teaching workshops all across the eastern seaboard, as well as at Art League Academy. In 1994, Addison moved to St. Simons Island, GA, where Jim also resides, and opened his own gallery.
Currently, Jim and Addison Palmer both enjoy painting landscapes and Lowcountry scenes. Both Palmers are in collections and homes throughout the United States and around the world. And it looks like the generations of Palmer artists will continue with Jim's granddaughter, Addison's niece, Emily Palmer. Emily is enrolled at a New York college studying art.
Generations runs May 3-28, Tuesday-Saturday from 10am-4pm and 90 minutes before all Arts Center performances. The public is invited to an Opening Reception Thursday, May 5 from 5pm-7pm. Enjoy refreshments and meet the artists. This event is free and open to the public. The Art League of Hilton Head Gallery is located mid-island inside Arts Center of Coastal Carolina, 14 Shelter Cove Lane, Hilton Head Island, 843.681.5060, www.artleaguehhi.org
Pictured Above:
"Keep on Dancing" by Addison Palmer
"Ocean View" by Jim Palmer