Sharon Hardy's paintings are not meant as a copy of the visual world but as a way of expressing color and form as an alternate means of expression.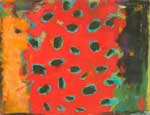 Her use of color has a life of its own and that makes it interesting. When creating a body of work of meteor-like objects in a spatial atmosphere, she is concentrating on a constant idea while exploring different variations and possibilities.
Using formal and technical skills, the compositions are rendered on a mathematical and geometrical foundation. The underlying grid of horizontal, vertical, and diagonal lines serve as a visual guide on which the work is accomplished with primarily transparent oils and occasionally pastels or watercolors. These elements help create spatial sequences with energies of color depicting meteor like fields of cosmic particles and fragments in the solar system. The color expressions of Rothko and Matisse are two of her inspirations and help her to create works of art that are basic with logic, form, and a beauty which satisfies her and strives to stimulate and challenge the contemplations and perceptions of the viewer.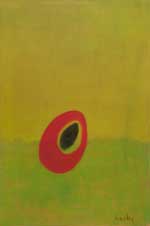 Sharon received her BFA from Michigan State University and while living in Chicago for 38 years was fortunate enough to participate in many studio classes at the School of the Art Institute of Chicago. For several years she also studied painting realistically in the Baroque manner in the private studios of artist Helen Oh. The logic of the Baroque techniques fostered a desire to create this series of contemporary abstract work. Sharon currently resides and has her studio on Hilton Head Island.
Cosmic Expressions: Paintings by Sharon Hardy runs May 15-June 6th, with an opening reception on Friday, May 15th, 5-9, at the Charles Street Gallery in Beaufort. Charles Street Gallery is an established source for Lowcountry and international art, presented within a carefully renovated house surrounded by a lush garden in Beaufort's historic district. 914 Charles Street, 843-521-9054, http://www.thecharlesstreetgallery.com