New Paintings & Plant Forms by Joan Templer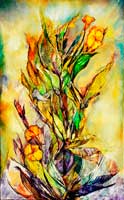 The reach of branches, the flutter of leaves, the dignity of a green stalk are captured by Templer for this show at The Charles Street Gallery, in a restless dialogue between technique, materials, and subject matter. Templer's aesthetic control and technical know-how stem from her twenty years as a professor of art at Georgia Tech, where she developed an extensive art studio for the College of Architecture. Her plant images are embedded in imagination, gold luster, and broad, detailed strokes to create impeccable results which continue to attract collectors from the South Carolina Lowcountry to Japan.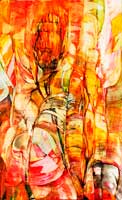 Joan and John Templer retired to Beaufort twelve years ago after both teaching at Georgia Tech in Atlanta for twenty years. Since then Joan has had seven one-person exhibitions. She trained in classical art at Natal University in her native South Africa, where she achieved considerable recognition, winning the prestigious Oppenheimer award in painting as well as receiving a commission to create a large vitreous enamel mural for the Johannesburg airport. Stimulated by the works of the European painters Alberto Burri and Antonio Tapies, Joan began to break away from the formality of her training to experiment with abstract art. Her work was further developed when she and her family moved to New York in 1969, where she could easily view the work of Jackson Pollack, Franz Kline, and other Abstract Expressionists. But the textural effects of Tapies and Burri have continued to exert their powerful influence throughout Joan Templer's long, dedicated, and distinguished career as an artist.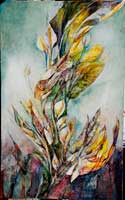 Her show opens Friday, April 17th, with a fun and lavish reception with the artist, and continues through May 2. The Charles Street Gallery is an established source for Lowcountry and international art, presented within a carefully renovated house surrounded by a lush garden in the middle of Beaufort's historic district. 914 Charles Street, 843-521-9054, http://www.thecharlesstreetgallery.com