SoBA Gallery welcomes Travis Newman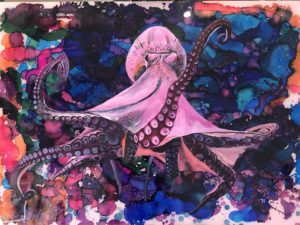 The mesmerizing mixed media artwork of Travis Newman will be featured during September at the Society of Bluffton Artist's Gallery in Old Town Bluffton. The colorful exhibit "In My View" is a depiction of Lowcountry wildlife, coastal themes and other animals through the Bluffton artist's eyes.
"My goal is to highlight the beauty that the world has to offer, even if there is chaos happening in the background," says Newman. "I believe that the beauty and majesty of animals brings a calming effect to the observer."
Newman's exhibit will be featured from Sept. 6 through Oct. 4 at the SOBA Gallery,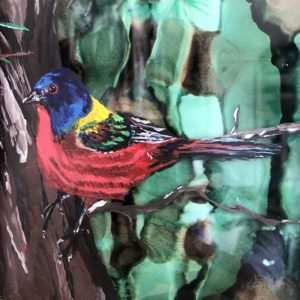 located at 6 Church Street. The public is invited to meet the artist during a reception at the gallery at 3 p.m. Sunday, Sept. 12.
After serving over a decade in the United States Marine Corps, Newman traded in his uniforms for paintbrushes.
"I found that service comes with its burdens, and painting helps with bearing those burdens," says Newman, who only began painting in January 2019.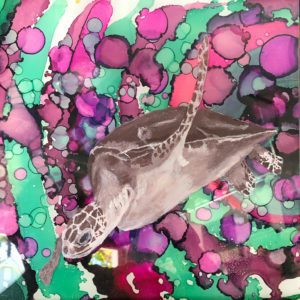 Newman uses color in the background to set the mood of his artwork, and that mood often dictates which animal or object will be highlighted. The depth and three-dimensional look of Newman's subject matter is heightened through his use of plexiglass. He works on both sides of the "canvas," using a reverse painting style for the background and traditional acrylic painting on the foreground.
About The Society of Bluffton Artists:
SOBA is the heart of the flourishing art hub in Old Town Bluffton's historic district at the corner of Church and Calhoun streets. As a non-profit art organization, SOBA offers regular art classes, featured artist shows, exhibitions, scholarships, outreach programs and more. The gallery is open from 10 a.m.-5 p.m. Monday through Saturday, and 11 a.m.-3 p.m. on Sundays. Please visit www.sobagallery.com for a complete calendar of events and other information or call 843-757-6586.