The Art League Gallery is currently featuring Finding the Purple, oil paintings by Kitty Sivertson & Absolutely Citron's Art: A 3-D Experience by Susan Citron. The show runs through May 9.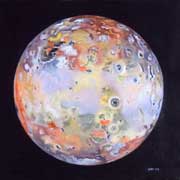 Kitty Sivertson is an emerging star on the local art scene while fulfilling a lifelong dream. Painting doesn't come easy for Kitty. Her artistry is a gift, the physical act of creating it, an intense labor of love and determination. The course of Kitty's life was dramatically altered at age 16, due to a disastrous automobile accident. With a broken neck she spent seven months in hospitals and rehabilitation facilities, learning to cope with unimaginable physical and emotional losses. In addition to the loss of use of her legs, she has limited use of her upper extremities and no control of her hands. Confined to a wheelchair, Kitty set aside her artistic ambitions for ten years. Then, she first experimented with pottery, but the unpredictable results of the firing process proved frustrating.
With the encouragement of friends, she joined the Art League, where she took painting lessons from several influential area artists, such as George Pinckney and Joyce Nagel. But it was Ted Jordan's "Paint like the Masters" class that ultimately inspired her style and confidence. Kitty is exhibiting her recent oil and watercolor paintings. Her signature piece "Self Discovery" shows an initially bare path leading towards a lush green forest at its vanishing point. Kitty explains: "Purple is my favorite color. Whether working from photographs or from real life, if I can find purple somewhere in my subject, it inspires me all the more. It can add intrigue and excitement for suggestion that there's more beneath the surface of things. It can give complexity to the simple, and a drama and like to the inanimate. Plus, it's just a pretty color!"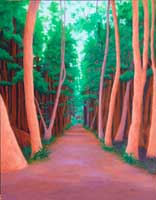 Another work portrays a conch shell delicately colored in pastel hues and soft edges. Kitty found the smoothness of the shell's interior in contrast with the rough exterior an interesting subject to paint. What drew Kitty to paint the planet Io was the metallic, textured look of the moon and it became a challenge to capture it. Kitty also excels in creating unique copies of masterpieces exhibited annually at a popular Art League event. Besides rediscovering her passion for painting, Kitty is finding out who she really is. No longer defined by her disability, with a newfound sense of accomplishment, she's well on the way to becoming the woman and artist she was meant to be.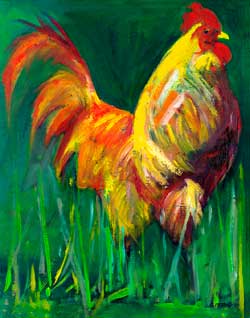 Susan Citron is a renaissance woman well versed in the visual and performing arts. In this exhibition, Absolutely Citron's Art: A 3-D Experience, Susan is showing her tiles, and a surprise to be revealed at the show. Her motifs are taken from her original paintings and are inspired by her travels, such as the crisp Greek Islands scene, or by animals she loves, such as her colorful rooster. Other subject matter is taken from everyday domestic life: two fried eggs in a black pan, freshly cut grapefruit or ripe peaches waiting to be eaten. Her palette is of clear primary colors that complement or contrast each other; her style is abstracted realism. Susan not only paints in all mediums, she also does stained glass and pottery. Growing up in Manhattan, New York, she became an actress and appeared on and off Broadway as well as on TV. She went on to study at the Art Students League in NYC and spent some time at the Cannes, France, arts program. She also has a degree as an Electronic Engineer and has taught tennis. However since moving to Hilton Head Island, Susan rediscovered her first love the visual arts and she is looking forward to share her treasures with you. Over a hundred member artists will also be on exhibit.

For more information call 843-681-5060 or check www.artleaguehhi.org