The Gallery is pleased to present "In Plain View", the newest solo exhibition of Savannah, GA based artist Daniel E. Smith. This newest series depicts the vast landscape of the Lowcountry with an exceptionally fresh perspective.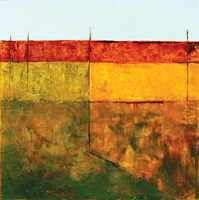 Dan states "allusions to human-created, utilitarian spaces and ordered glances of a natural world are my chosen vocabulary." This series began with a sense of promise and danger. "The challenge was to incorporate a sense of the sweeping timelessness of the Lowcountry salt marsh and its fragility".
The love of color and form, the affect and effect of environment and the excitement of communicating experience generate these paintings for Smith. Dan's encaustics are a rich interpretation of the world around us, what is in our daily experience and naturally "In Plain View". With a background as rich and deep and his painted surfaces, Dan has allowed his experiences to greatly contribute to his visual expressions. From growing up in a family of ten in a cold-water, tenement flat in Brooklyn to years of dedication as a member of a teaching order of monks to studying art in both China and Italy, Smith's life is rich with inspiration.
After receiving his Masters in Fine Art from Savannah College of Art and Design, Dan decided to remain in the beautiful Lowcountry. His first museum show was held at The Telfair Museum of Art in Savannah, GA in 2005 in which he depicted the construction phases of the new Jepson Center and 12 pieces from the series are included in the permanent collection.
The show runs through June 14th at The Gallery in downtown Beaufort. For more information please contact Deanna at 843-470-9994 or visit our website www.thegallery-beaufort.com.