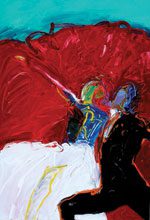 For five years, Art League of Hilton Head artists have enlivened Hilton Head Symphony Orchestra's annual concert program book with artwork relating to the concert themes and musical selections. From March 1-April 2, Art League Gallery will celebrate its collaboration with HHSO with the exhibition of "Music as Art." An opening reception on Wednesday, March 2nd from 5-7 pm is free and open to the public.  
In 2009, HHSO Executive Director Mary Briggs, with then Art League President Terry Brennan, initiated a collaboration celebrating the mutual inspiration of the two art forms. Conductress Green created "Music and Art", selecting musical compositions that had been inspired by visual art.   Then for the concert book and post-concert exhibits, Art League artists based their artwork on either the music or the original masterpieces. For 2010-11, "Music & Dance" led to equally original artworks.
Conductor John Morris Russell's dynamic baton has produced "Growing Excitement," "Dreams and Drama" and "Passion in the Lowcountry," stimulating artistic visions for the past three years. 
"Sarah Bergin and Charles Grace from HHSO have been truly a pleasure to work with on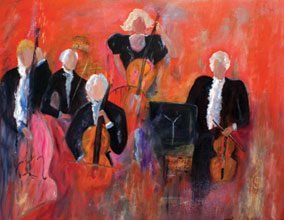 the production of these program books. This ongoing collaboration has certainly benefited both organizations" says Juliana Kim, the exhibition's curator, "'Music as Art' is a retrospective of those five years and has been timed to coincide with HHSO's Hilton Head International Piano Competition and Piano Palooza."
Exhibit goers will be able to see the painted pianos in one place when they visit Art League Gallery to view "Music as Art."
The exhibit will run from March 1 – April 2, with an opening reception on Wednesday, March 2, from 5pm-7pm. Enjoy refreshments and meet the artists. This event is free and open to the public.
Art League of Hilton Head Gallery is located mid-island inside Arts Center of Coastal Carolina, 14 Shelter Cove Lane, Hilton Head Island, 843.681.5060.
Pictured Above:
"Shall We Dance" by Peter Karis
"Night at the Opera" by Norma Deal