Opening on Febraury 29, Beaufort Art Association presents "By The Sea," a joint exhibit of fine jewelry and photography by two of the Lowcountry's finest artists, Barbara Miller and Robert Ryzner. The two-month exhibit runs from Monday, February 29, through Saturday, April 30. Opening Reception is Friday, March 4, from 5:30 to 7:30. The public is invited. The work of over 60 other local member artists will also be on exhibit.
Both Barbara Miller and Robert Ryzner have been exhibiting at Beaufort Art Association for the past several years. Barbara had appreciated Robert's creative approach to photography and recognized that each of their work complemented the other's. The joint exhibit was born. Their decision to emphasize the sea stems from lifetimes of loving and sharing their visions of all things swept from the sea.
"My art merges my life-long love of fiber knitting and my admiration for unusual handmade
jewelry," commented Barbara Miller. She has been a knitter since age ten, designing everything from scarves to coats. Wire knitting uses the same techniques as fiber knitting, but it substitutes wire for yarn and embellishes with beads to produce one-of-a-kind pieces of wearable art.    
Wire knitting has as much design flexibility as fiber knitting. Barbara uses different metals for knitting but prefers stainless steel and gold-filled wire. Her favorite beading
materials include semi-precious gemstones, handmade glass beads, coral, shell, and fresh water pearls, particularly those with unusual shapes and textures.
Barbara's work has been featured in art galleries in Beaufort, Hilton Head, and Charleston, as well as Savannah, Asheville, Orlando, St. Augustine, and Taos. Her art has won awards for three consecutive years at the Palmetto Statewide fine crafts competition.
Robert Ryzner received his fine arts degree from Penn State, working in oil, watercolor, lithography, photography, and film. His career as an Advertising Creative Director in a NYC agency filled his portfolio with international and national print, television, and video ads that garnered him over 65 international awards in juried shows.  
Since moving to Bluffton over ten years ago, Robert began using the art of photography to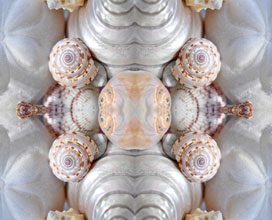 capture the unique beauty of the Lowcountry and saltwater life. He discovered the technique of using a Mandela – a symmetrical design with internal and external patterns that are similarly simple yet profound. It's a geometric pattern typically circular or square, symbolizing integrated structures around the center.
In this exhibit Robert combines the beauty of local shells and shells photographed around the world. These multi-dimensional images enhance the feeling of living by the sea.  Since shells are a natural form of a Mandela, each geometric turn combination produces a unique photograph.
When you view this upcoming exhibit, capturing great moments by the sea in such a unique way, you'll feel that all that is missing is the sound of waves lapping on the shore and the feeling of sand between your toes.
For further information on this exhibit or on the work of other member artists, please visit www.beaufortartassociation.com.