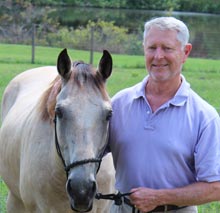 A renowned horseman once said, "When you have the smell of a horse in your blood, it never leaves you." Artist Steve Weeks had a few horse lessons as a child and took a few dates out on trail rides, but it was when his wife Martha had him back in the saddle several decades later that rekindled the flame of his admiration for horses.
Wife Martha's cousin raises Paso Fino horses and they would ride through the swamps of Georgia in chest deep water. Gator slides evident everywhere. "Riding with a full stirrup extension was somewhat easier for someone just a little out of practice," and most importantly states Steve, "it was good to get back on horseback."
            The passion of painting horses increased when his wife Martha and Steve became involved with foxhunters. "My love of painting horses truly began with our association with the fox hunt club, Lowcountry Hunt.  My wife and I were truck whips with them for several years.  I find the red coats (called pinks in the vernacular), horses, dogs (called hounds), and the plantations, all of it very inspirational." Steve explained, for an artist the visual of the grounds and the plantations is incredible with all of the colors, the textures and the beauty. Week's fascination with the beauty of his surroundings is evident in numerous images of fox hunt paintings done by the artist.
            Steve's affection of horses shows in his work. Over the years, in his studio at Atelier
on Bay, Steve has painted a myriad of stunning equine paintings encompassing many genres of sport horses. In addition to foxhunters, Weeks has spectacular oils of flat track racing, jumpers and a still life of a horse standing inside the Spring Island Barn. Having watched the Marsh Tackies race on Hilton Head in 2010, these unique horses fueled his fire and were also added to his portfolio.
            Last year was Steve's first year to attend the charity event hosted by the Rotary Club of Okatie. With a point and shoot camera he stood on the side lines and took a great number of photos, while feeling the energy and adrenaline of the ponies racing by. The day of the event, Steve chatted with Okatie Rotary President and Chair for Polo for Charity organizer, Barbara McFadden and expressed his interest of painting a picture for next year's affair. Four photos were chosen by Steve as his inspiration to paint. Off Side Shot was the one painting chosen for the cover of the 22nd Annual Charity Polo program guide due to the tension and action it displays as three players are racing down field, charging for the ball. The Off Side Shot painting will be placed on sale at the silent auction to be held on the day of the event. It is a 20 x 20 oil on canvas.
            Another exciting aspect, Steve will be present the day of polo, painting an original oil during the festivities that will be raffled off at the end of the day. Only 500 tickets will be sold for the raffle at a cost of $5/each. He will have other paintings on display and available for purchase near the silent auction tent.
            The 22nd Annual Okatie Rotary Polo for Charity is Sunday, October 11th at the Rose Hill Equestrian Center. Gates open at Noon and the match starts at 2:00 p.m. Tickets are $20 at the gate on the day of the match or $15 per person in advance. Children under 12 are admitted free. For information, contact rotarypolo@hotmail.com or call (843) 298-3055 or (843) 706-3760. Advance tickets will be available at BB&T bank locations, Markel's, Coastal Home, Heritage Library Hilton Head Island and Atelier on Bay in Beaufort. Patron slots, and sponsorships are available for purchase.
Event organizers would like to thank this year's sponsors including:
Platinum Sponsors – Engel & Vӧlkers, Hilton Head Island and Lang Capital
Gold Sponsors – Cook Farms Ltd, J & S Construction and the Law Office of Barbara McFadden
Diamond Sponsors – Dynamic Dentistry, John Mosca, CPA and The Tegwar Company – Daufuskie Island. Media Sponsors: Accurate Lithograph, Bluffton.com, Bluffton Sun/Hilton Head Sun, Bluffton Today, CH2/CB2 Magazine, Hilton Head Monthly, Island Events,  Island 93.5fm, Lowcountry Weekly, SC103.1/Surf 104.9fm, The Breeze magazine, The Island Packet, The Scout Guide and WHHI TV.