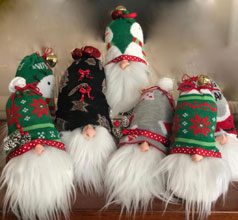 Fifteen local artists came together in 2007 to found the Maye River Gallery in Old Town Bluffton.  During their first holiday season they were introduced to Beads for Life/ Uganda and it became a small presence in the Gallery which normally offers locally produced art and accessories exclusively. 
The response from clients was incredibly supportive of the project's focus – women helping women; and so the Gals agreed it would become an annual affair.  The following season they supported Tiny Hands Foundation of Nepal.
Along the way, several of the Maye River Gallery gals were making seasonal ornaments, standing Santas and oyster shell angels but eventually the efforts grew into an organized annual group workshop and the Holiday fundraiser to support LOCAL charities. During the first week of November this year, the artists gathered at jeweler Susan Knight's home for a Pinecone Gnome workshop. These fun little creatures with their individual personalities are so popular that a few of the artists, Barb Snow and Helen Taverna have temporarily converted their studios to individual workshops, insuring an adequate supply of the little imps. 
To date over $10,000 has been contributed through their Holiday efforts.  Local agencies who have benefited from the Gallery's fundraising efforts in the past are: Hospice of the Lowcountry, Second Helpings, Family Promise, Memory Matters, Calhoun Station, Coastal Discovery Museum, Hopeful Horizons, HH Humane Society among others as well as this year's designees for a second time- Deep Well and Bluffton Self Help. 
Please drop by the Gallery at 37 Calhoun St to support this worthy cause. The Gallery also offers ornaments and Xmas trees by PEP (Program for Exceptional People) during the holidays and their decorative garden stakes at other times of year.
The Maye River Gallery represents paintings, photography, ceramics, basketry, jewelry, fiber art and accessories by locally renowned artists : Earline Allen, Penny Beesley, Cindy Chiappetta, Jo Dye, Monica Ferguson, Susan Hindrichs, Susan Knight, Judy McElynn, Joyce Nagel, Mary Segars, Barb Snow, Jennifer Rocco Stone, Kathy Tortorella, Marci Tressel and Helen Taverna.