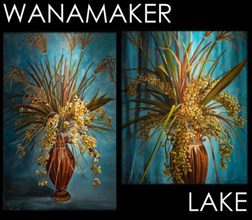 The Art League of Hilton Head proudly presents the works of two classical realistic painters, Dennis Lake and Heather Wanamaker, in a unique art exhibit at the Art League of Hilton Head Gallery located at Shelter Cove Harbour, in the Walter Greer Gallery, at the Arts Center of Coastal Carolina, 14 Shelter Cove Lane.  The show runs October 7-29.  A reception, open to the public, will be on Thursday, October 9, from 5-7 p.m. and an artist "Tour of the Exhibit" will be on Saturday, October 18, at 11 a.m.      
         Realism has endured for centuries, representing nature through individual observation.  Lake and Wanamaker paint in oil and watercolor, skillfully capturing life's beauty by fully developing realistic paintings in the classical tradition.  Using many of the centuries-old techniques of the Old Masters, these artists do not simply replicate a landscape or still life, but strive to reach the soul of what they are painting, to create a feeling, or to tell a story.       
"No two artists create the same painting," Lake said, "Even if it is of the same subject."  Illustrating this point is one pair of paintings of a vase and berries captured through each artist's eye.  The works within the exhibit will offer a wide variety of subjects and settings.  The viewer will see southern landscapes, beach scenes, northern and western scenery, still life, portraiture, and florals.
Lake's and Wanamaker's art is influenced by their shared admiration for great artists of the past, such as Bouguereau, Vermeer, Bierstadt, and Sargent; and also modern artists including Andrew Wyeth, Mary Whyte, David Leffel, and Richard Schmid.
Both artists relocated to the Lowcountry from different parts of the country and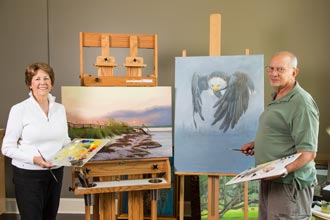 found an emerging and supportive arts community.  Lake joined the faculty of the Hilton Head Art Academy and Wanamaker met him when a student.  Lake's mentoring helped Wanamaker refine her classical skills, and now they paint together as friends and colleagues, sharing information, pushing each other with constructive criticism, and inspiring each other to grow artistically.
"Enduring Realism" is a result of two artists' collaboration, hard work, and dedication to their craft.
About Dennis Lake
As a child growing up in Detroit, Dennis Lake was recognized for his artistic talent.  After earning his BFA at Wayne State University, he worked as an art director in a decorating firm.  His design career was interrupted by the war in Vietnam, and he spent the next 20 years as an Air Force pilot.
His love of fine art grew as he traveled the world; so upon retiring from the Air Force, he returned to school for his Masters in Art Education.  Later, while teaching at the high school and college levels, he began painting and exhibiting in the Middle Tennessee region.  Lake was selected as a gilder for Nashville's Athena project, served as President of the Mid-Cumberland Art League, received numerous awards in juried shows, has been commissioned for murals and portraits, and sells his original art work.  After moving to Bluffton, he began teaching at the Hilton Head Art Academy in 2009 and the Society of Bluffton Artists. 
Lake takes great delight in observing and interpreting the world around him, often with an eye for intricate detail and subtle colors. Many of his works are of familiar local areas presented in his unique, but traditional style, and show his versatility in mediums.
About Heather Wanamaker
Heather Wanamaker, a native New Yorker, moved to the Lowcountry to pursue her second career in art following many years in corporate business.  "I knew this was the time to follow my life-long love of art," she said.  "I resumed studying art by enrolling in classes and investing the time I never had before to learn and practice techniques."  Wanamaker has won awards in New York and South Carolina, twice exhibited in the Hilton Head National Juried Show, and is a member of the Art League of Hilton Head, Society of Bluffton Artists, Beaufort Art Association, and National Portrait Society.  She sells her original works and Giclee prints. 
While she enjoys painting in other genres, she finds still life allows her to develop unique scenes that establish a mood or tell a story.  When viewers derive pleasure from her paintings, she feels her artwork has achieved its goal.