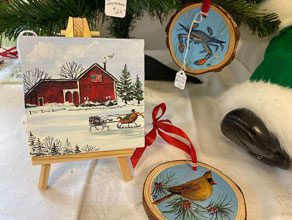 Artists of the Society of Bluffton Artists (SoBA) are creating original, one-of-a-kind handmade gifts for the 8th annual Holiday Boutique. The boutique is scheduled for Nov. 19-Dec. 19 at the gallery's Center for Creative Arts (CCA) building next door on Church Street in Old Town Bluffton.
The boutique offers the community a unique place to shop for the holidays, with hundreds of hand-created works by local artists — including Santa Claus figurines, jewelry, cards, placemats, etched glassware, painted furniture, fiber art, holiday decorations, (small) paintings, wreaths, floral arrangements and more. 
"This year, we have packed our CCA building with gifts and surprises that are sure to make you visit again and again," said Lynda Hawley, SoBA's fundraising chairwoman.
SOBA invites the public to attend Sneak Peek Night, from 4-8 p.m. Thursday, Nov. 19 at the CCA building, 8 Church Street in Bluffton. With every purchase, shoppers enter a drawing to win a 24-inch handcrafted heirloom Santa. Attendees do not need to be present to win.
The boutique opens from Nov. 19-Dec. 19. The boutique is open from 11 a.m.-3 p.m. Sunday-Wednesday; and from 10 a.m.-5 p.m. Thursday-Saturday.
"Stop by to see our six beautifully decorated 3-foot Christmas trees that are available for purchase — with all tree proceeds supporting SoBA's scholarships, classes and community programs," Hawley said. 
For more information, please contact Lynda Hawley at hawleycollection@aol.com.
SoBA is the flourishing art hub in Bluffton's historic District at the corner of Church and Calhoun streets. SoBA offers regular art classes, featured artist shows, exhibitions and more. Please visit www.sobagallery.com for a complete calendar of events and other information or call 843-757-6586.