The 9th Beaufort International Film Festival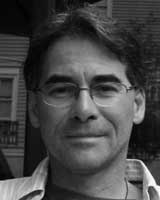 Raises the Bar. 
By Mark Shaffer
"We have filmmakers every year who tell us that they're going to go home and make another movie just so they can come back to Beaufort. You can't beat that."
    – Ron Tucker, Executive Director, Beaufort International Film Festival
This will be my 7th Beaufort International Film Festival. I might have made it to all nine, but I was on the west coast the first year and only just arrived in Beaufort for the second iteration. I didn't find out about the film festival until it was over. In fact, I later found out that most locals were completely oblivious to the fact that Beaufort even had a film festival. Perhaps this was partly due to location. In those early years BIFF took place across the river on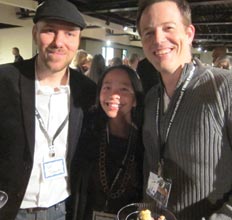 Lady's Island in a former movie theater-turned-church. It didn't take long for the word of mouth to build and BIFF quickly gained a reputation as "the little film festival that could." Some filmmakers like Writer/Director/Producer/Actor Gary Weeks made Beaufort an annual habit (he's not missed one). Others like the husband & wife team of V.W. Sheick and Uyen Le came (left, with Weeks), came again, and then pulled up stakes in L.A. and moved to Beaufort (more on this next issue). All of the converted spread the gospel of BIFF among their brothers & sisters across the nation, and around the world. Pretty soon BIFF began to balloon like Kirstie Alley at a Vegas buffet. A move to the USCB Center for the Arts solved the space problem – for now – and positioned the fest in a waterfront venue on a historic campus within walking distance to shops, restaurants, inns and bars.
            Last year a freak winter storm blew across the nation, shutting down airports and interstates and generally tossing a giant icy monkey wrench into the works. A lot of filmmakers and fans cooled their heels at home unable to find a flight or an open road. Some (presumably followers of Jim Cantore's Twitter feed) got here early and stayed late. And then there was Elizabeth Yoder. The L.A. based actress eventually made it to Beaufort after a harrowing and costly cross-country journey. "I would've hired a dogsled," she told me. Her diligence paid off with a Best Actress trophy and a slew of new friends and fresh connections. Even with most of the Southeast locked in a decidedly un-Disneyesque state of "Frozen," attendance was up. Advance ticket sales for 2015 are far ahead of schedule according to Ron and Rebecca Tucker, the principals behind both BIFF and its parent organization, the Beaufort Film Society.
            Gaffney, South Carolina native Andie MacDowell is among this year's honorees. The
star of "Sex, Lies &Videotape," "Groundhog Day," and "Four Weddings and a Funeral" will receive the inaugural Spirit & Pride of South Carolina Award from legendary author, Beaufort denizen, and occasional Lowcountry Weekly contribtor, Pat Conroy (seen here with Blythe Danner, at BIFF 2010). All of this factors into a phenomenon we like to call the "pre-BIFF buzz." If the indicators pan out, 2015 looks to be the most impressive festival yet. An unprecedented number of filmmakers are already booked and attendees can expect some surprises and at least one major announcement (which we will preview exclusively in the 2/11/15 BIFF issue). But the bottom line for festival goers this year is an intimate independent film experience like no other and, according to festival director Ron Tucker (above, with wife Rebecca), a chance to see BIFF achieve the next level.
COMING ATTRACTIONS
            Mark Shaffer: Looking over the list of entries I'd say this is not only the most formidable slate I've seen across the board, but maybe the edgiest as well.
            Ron Tucker: The quality of entries has been so much better this year. We want to
find films that have an impact; that you're going to remember and talk about. It seems we always have a couple or films that people are still talking about three or four years down the road. This year I think people will agree with you. It's the strongest selection of films in every category that we've ever had. With all the filmmakers we've got coming my biggest concern right now is how to manage the Q&A between films.
            MS: Much of this – indeed, a great deal of the festival's remarkable growth over the past few years – is due directly to word of mouth.
            RT: The filmmakers who've come here and had a great time have told other filmmakers at other festivals about us. We've got a lot of films on this year's schedule because of that.
            MS: This could also be the year of the character actor.
            RT: That's right. We have names attached to films that people might recognize. Max Gail ("Barney Miller," "Judgement in Berlin," "42") stars in "The Frontier" and Ted Levine ("Silence of the Lambs," "Shutter Island," "The Bridge") is in "Dig Two Graves."
That film's director Hunter Adams is coming from L.A. along with his producer. I talked to him last night. Ted's starting a movie about that time, so he may not make it.
            MS: And you've got talent coming from all over.
            RT: One filmmaker's coming from Italy. Tim Driscoll, the young director who did a great job with "The Lengths" is coming from L.A. A couple of the actors are also coming, Corsica Wilson and Joshua Mikel, who are both up-and-comers. Melindi Fickel who co-wrote and directed "Suck it up, Buttercup" is flying in from Honolulu. Her lead actress, Lacie Marie Meyer, is coming from New York. And many, many more – most of them for the majority of the festival.
            MS: In the feast or famine category, last year you simply opted out of doing a feature film category because you thought the quality was lacking.
            RT: Last year we didn't think the feature entries were up to the standard of the other categories. This year is just the reverse. We had a number of features that didn't make the cut this year that definitely would have been finalists in years past. It's been a very strong year for features. And all of these are from fairly young directors. Some of them have already had success on the film festival circuit. "Suck it Up" has won some awards. So has "The Frontier" and "The Lengths." "Dig Two Graves" and "Cinema
Purgatorio" are just getting out there.
            MS: The latter is a homegrown project out of Greenville and shot in the Charleston area. As it turns out there are quite a few finalists who won't have far to drive this year and we'll be highlighting some of them in the next issue.
            RT: I think South Carolina's represented in every category and has the majority of the screenplays.
            MS: Last year we had the freak winter weather that kept a lot of people home, but remarkably the numbers didn't drop. They actually went up. Are you expecting to make up for that this year with a major spike in attendance?
            RT: I'm hoping for and expecting the numbers to spike for several reasons, chief among them is word of mouth. Every year I worry that no one's going to show up. A week out I still hear locals asking, "When is it?" And that always scares me. But the word gets out. This year we started publicity earlier. Things like Tripadvisor have worked well. A lot of the hotels and inns now have film festival packages. But every year it goes back to the community getting involved and right when we need a hug the most, they put their arms around us. Even with the bad weather we still had around eight thousand people last year. And I expect those numbers to go up.
          MS: Ten thousand?
            RT: I'm hoping for ten thousand. I'd really like to hit five figures. Our online ticket sales are already double what they were at the same time last year.
            MS: Are you finally getting the sense that the community has come around to consider the film festival as a viable economic driver in an otherwise flat time of the year?
            RT: Yes. We've had skeptics. There are other festivals that are better known locally.
            MS: Local, being the operative word.
            RT: Ours is the only international festival with films from all over the world and filmmakers coming from all over the world. We have a lot of people who've retired to the area from places where they enjoyed film festivals and they got involved and joined the film society and helped us grow. And for those people out there who want to be involved in where we're headed in the future, I would encourage them to join the film society as well. Because as we approach year ten I think we've convinced people that we are indeed here to stay.
            MS: One of the things that makes BIFF so special and unique is that it all takes place under the Big Top, if you will, all under one roof at the USCB Center for the Arts. How do you deal with growth and the limits of the venue?
            RT: We can expand the festival by increasing the number of days and still keep it downtown. There is no other venue downtown . And we like the fact that people can walk to and from the venue. Everything's convenient. Now, we've had people do everything they could to pull us away from here and we've resisted every effort. Our goal is to keep it here. Keep it hometown. That's what people like about it, that hometown feel. It's not Sundance or Tribeca or Cannes. It's Beaufort and Beaufort has its own magic and we want people to come to Beaufort because of that.
            MS: I say this every year, but there's something about this experience that transcends camaraderie for a lot of these people. A sense of family develops. You can see it happen right before your eyes.
            RT: That's right. Friendships are made. Partnerships are formed. Things happen.
            MS: In fact, something pretty big kicks off 2015. But that's for next time…

READ, CLICK, FOLLOW…
Pick up the 2/11/15 BIFF issue of Lowcountry Weekly for exclusive filmmaker interviews, an insider's guide and the complete festival schedule. And follow us online at lowcountryweekly.com, Facebook, Twitter, Instagram & Tumblr for all access festival coverage.