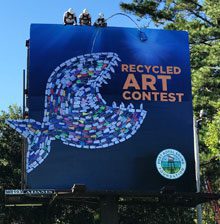 The Port Royal Sound Foundation is hosting a Recycled Art Contest to help bring awareness to Beaufort County's plastic bag ban and keep the water and land of the Port Royal Sound Area clean and healthy.
Over 80 artists will flood the Maritime Center with artwork using the Port Royal Sound as their inspiration – think ocean, animals, beaches, local culture & history, and fun in the sun! All entries will be made from at least 80% recyclables or trash material to promote keeping our community clean. $3500 in prize money will be awarded in several categories.
Artwork will be on display for the public to see at the Maritime Center for their 4th birthday celebration on November 17 from 10 am – 3 pm (a free, family friendly event). Winning entries will be announced at an artist reception and will be kept on display through the end of 2018.
The art contest is sponsored by Beaufort County Solid Waste & Recycling, Adams Outdoor Advertising, Docugraphics, Coastal Conservation League, JK Tiller & Associates and WaterMark Coastal Homes. Be sure to check out the angler fish inspired billboard on 170 in Okatie created by Adams Outdoor Advertising, it lights up at night.
Since opening their doors in 2014, the Maritime Center has featured over 140 local artists and recently hosted their annual STEAM (Science, Technology, Engineering, Art and Math) Festival. The Port Royal Sound Foundation recognizes the importance of art in our Lowcountry culture.
Beaufort county's plastic bag ban goes into effect on November 1st, please visit bcgov.net/bagban for more information.
For additional information about the Recycled Art Contest, please visit Port Royal Sound Foundation's website/Facebook page or contact the Foundation office at 843-645-7774.