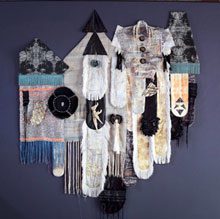 The Sea Islands Center Gallery at the University of South Carolina Beaufort will present Indigo Rain: Secreta, Magica, Memoria, an exhibition featuring artwork by Zipporah Camille Thompson, Nov. 8 from 5 to 8 pm. A gallery talk by the artist will take place at 6 pm.
The exhibition will be on view through Dec. 8. The gallery, located at 1106 Carteret St., is open Tuesday through Friday from 1 to 6 p.m. and Saturday from 11 a.m. to 6 p.m.
A visual artist and sculptor based in Atlanta, Zipporah Camille Thompson explores ritual and alchemical transformations through the unknown and through universals, including death, catastrophe, chaos and the cosmos. Metamorphosed shapeshifters and hybrid landscapes reflect various archaeological, psychological, and ecological perspectives, as well as a personal investigation of self and identity.
She creates woven sculptural hangings, assembling handmade and found objects into installations while crafting vessels of clay, antlers, bean pods, and more. She works with a variety of traditional and nontraditional materials, including fiber, clay, plastic, tinsel, and aluminum foil. Her work references historical traditions of weaving and ritualistic art-making, as well as futuristic and space-age visions. One of the works featured is a new installation created specifically for USCB's Sea Islands Center Gallery.
Thompson received a BFA from the University of North Carolina at Charlotte and an MFA from the University of Georgia. Her work has been featured in a number of print and online publications, most recently in Art Papers. She has shown at the Zuckerman Museum of Art, Trestle Gallery in Brooklyn, Rogue Space in Chelsea, the Georgia Museum of Art, the Atlanta Contemporary, and Whitespace Gallery in Atlanta, as well as other venues. Her work is also included in private collections. 
Thompson is a 2016 Artadia (Atlanta) Finalist, a Hambidge Distinguished Fellow, a former resident of ACRE Projects and Elsewhere Museum, and a Hambidge Creative Hive Project Artist. 
More recently, she earned the Zenobia Scholarship Award for residency at the Watershed Center for the Ceramic Arts, in Newcastle, Maine. She is also a 2018 NCECA Multicultural Fellow and a 2018 Idea Capital Research & Development Travel grantee. She is an artist in The Creatives Program with studio residency at The Goat Farm. She recently completed a residency at the Ox-Bow School of Art and Artists' Residency in Saugatuck, Michigan. 
Thompson is represented by Whitespace Gallery in Atlanta.
For more information about the artist, visit her website at http://www.zipporahcamille.com.