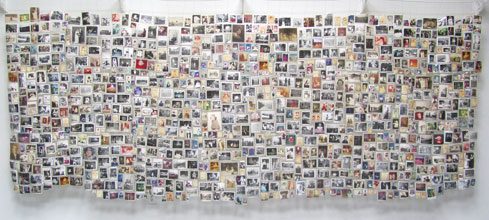 The Studio Art Program and the Fine Arts Department at the University of South Carolina Beaufort presents Anonymous Ancestors, an art installation by Susan Lenz at the Sea Islands Center Gallery on the university's Historic Beaufort campus through the month of September. A public lecture will be conducted by Ms. Lenz September 30 from 4:30 – 5:30 pm, followed by an artist's reception. The exhibition is free and open to the public. Gallery hours are Friday through Saturday from 11 a.m. to 4 p.m. or by appointment.
Susan Lenz resides in Columbia, SC and received a Bachelor of Arts degree in Medieval and Renaissance Studies from The Ohio State University. Susan has had solo engagements all over the United States, including the Mesa Contemporary Art Museum, Mesa, AZ; Southeastern Quilt and Textile Museum, Carrolton, GA; International Quilt Festival, Houston, TX; City Gallery at Waterfront Gallery, Charleston, SC; and the University of South Carolina-Aiken, Aiken, SC. Her work has also been selected for national and international group exhibitions, earned merit and purchase awards, and included in corporate and museum collections.
Ms. Lenz describes her motivations and creative processes in the following statement: "I ply an age-old needle pulling timeworn thread through layers of vintage fabric. I work like so many women all over the world from every century since the dawn of time. There's nothing new about a straight stitch. Repetitive . . . pierce and pull . . . hour after hour . . . day after day . . . year after year. My sewing machine hums with near constant activity. My fingers are nimble and quick. Productivity is in my blood. Finished pieces stack up on out-of-the-way shelves, begging to be noticed, ready for the vague chance to hang on an exhibition wall. I don't hold my breath. I just work. I work with the faint hope that something, perhaps just one little work of art, might be kept through coming generations, cherished . . . admired . . . remembered . . . regarded as quality . . . something to mark my existence on this planet."
For this installation, thousands of anonymous, vintage photographs have been altered to create a nostalgic interior. To stand within Susan Lenz's Anonymous Ancestors is to become immersed in the myriad of family stories handed down through generations. Ms. Lenz intentionally uses snapshots as frozen moments on life's timeline. Her collaged words allow viewers' minds to wander, to envision forgotten friends, past holidays, ancient occasions, former cars and hilarious fashion trends. The exhibit suggests the narratives of distant aunts and uncles, cousins, grandparents, siblings and in-laws. Anonymous Ancestors is society's family tree, a collective wall of ancestors.
For more information about Anonymous Ancestors, an exhibition of installation works by Susan Lenz, and information about USCB's Studio Art degree program, contact Kim Keats, visiting professor of Art and interim department chair of the Fine Arts Department at kkeats@uscb.edu. For more information about the university, contact Kerry Jarvis, public information coordinator, at 843-208-8030 or jarviskc@uscb.edu.