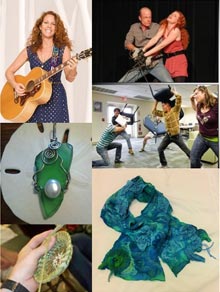 In May, ARTworks will be launching a new series of classes for adults. Managing Director, Laura Maxey says "Since we're a community arts center, we try to be responsive to the requests of our community and that has resulted in some exciting new class offerings. This month should have a little something for everyone to try and have fun with." The following workshops will be offered throughout May and June:
Stage Combat for Actors Workshop, May 9th from noon to 2pm
Shakespeare Rep will be presenting a "Stage Combat" workshop at ARTworks with Martin Noyes. Mr. Noyes is a member of Actor's Equity, the Society of American Fight Directors, and the Association of Theatre Movement Educators. He has won numerous awards and other recognitions for his stage fighting work both as an educator and actor. Suitable for actors ages 16 and up. The cost is $60 per student.
The Art of Vocal Freedom Workshop, May 9th from 2:30pm to 5
Rebecca Folsom, a recording artist who tours nationally (http://rebeccafolsom.com/ ), will be teaching a 2 hour performance workshop. She will help both novice and experienced performers find and work with their "authentic voice". The cost is $60 per student. Space is limited and advance registration is required.
Sweetgrass Basket Class, May 16th from 1pm to 3pm
Renowned Gullah craftsmen, Michael Smalls and Dino Badger, will teach students the techniques to begin creating their own Sweetgrass baskets, which they can either complete on their own or elect to take additional classes where they will receive further guidance. The cost is $100 per person, which includes supplies.
Introduction to Nature Photography in the Lowcountry, May 30th 1pm to 3pm & June 6th time TBD
This is a two-part class, taking place on successive Saturdays. The first class on May 30th will be an indoor presentation with tips, techniques, and equipment suggestions for photographing wildlife and nature in the Low Country. On June 6th, weather permitting, the instructor will lead a field trip to the Estuary in Port Royal, where students will use their own to capture the flora and fauna they encounter. Mr. Kampwirth will give specific guidance throughout the trip, based on various situations the students encounter. The cost is $100 per student.
Jewelry Making with Beads and Beach Glass, June 6th 1pm to 4pm
The focus of this class is to introduce you to the basic techniques of creating jewelry using beads. The instructor will show students basic jewelry-making principles, show examples of her own work, and share the fun of making jewelry. Upon successful completion of this workshop, students will have created a basic jewelry design, such as a necklace, bracelet, or pair of earrings. Cost is $85 per student, including jewelry making supplies and tools to work with.
Fabric Painting/Creating Wearable Art, June 13th noon to 5pm
A great way to express your creative side! Students will learn key techniques like how to prepare clothing for painting, how to add a resist medium, which stops dyes flowing into each other, and also how to mix the paints together to get a variety of effects. All tools and equipment needed are provided. Students will need to bring their own article of clothing. Suggestions will be given in advance about what type of fabrics will work best. Cost is $100 per student.
Nuno Felt Technique Workshop, June 20th from 10am to 4pm
Fiber Artist and Author, Margo Duke, will be teaching a class on how to make a Nuno Felt Scarf. The Nuno technique bonds loose fiber (usually wool) onto a sheer fabric such as silk gauze. The instructor will provide all materials and tools needed. The cost for the class is $150.
Advance registration is required for all classes. In addition, ARTworks will be offering a limited number of scholarships for these classes, based on availability after regular enrollment has completed. To apply for a scholarship, applicants should contact Laura Maxey at lmaxey@beaufortcountyarts.com or 843-379-2787.
ARTworks is located at 2127 Boundary Street in the Beaufort Town Center shopping plaza. For more information or to register for the classes listed go to www.beaufortcountyarts.com or contact the ARTworks office at 379-2787.