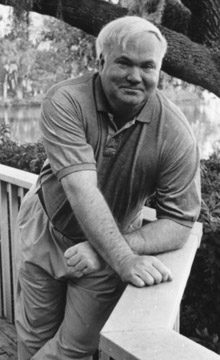 Pat Conroy's work as a novelist and a memoirist has indelibly shaped the image of the American South in the cultural imagination. His writing has rendered the physical landscape of our own South Carolina Lowcountry familiar to legions of readers, and it has staked out a more complex geography as well, one defined by domestic trauma, racial anxiety, religious uncertainty, and cultural ambivalence.   
  In her new book Understanding Pat Conroy, Catherine Seltzer engages in a sustained consideration of Conroy and his work. The study begins with a sketch of Conroy's biography, a narrative that, while fascinating in its own right, is employed here to illuminate many of the motifs and characters that define his work and to locate him within Southern literary tradition. The volume then moves on to explore each of Conroy's major works, tracing the evolution of the themes within and among each of his novels, including The Great Santini, The Lords of Discipline, The Prince of Tides, Beach Music, and South of Broad, and his memoirs, among them The Water Is Wide and My Losing Season.
Seltzer's insightful close readings of Conroy's work are supplemented by interviews and archival material, shedding new light on the often-complex dynamics between text and context in Conroy's oeuvre. More broadly Understanding Pat Conroy also explores the ways that Conroy delights in troubling the boundaries that circumscribe the literary establishment. Seltzer links Conroy's work to existing debates about the contemporary American canon, and, like Conroy's work itself, Understanding Pat Conroy will be of interest to his readers, students of American literature, and new and veteran watchers of the South.
Catherine Seltzer, an associate professor of English and women's studies at Southern Illinois University at Edwardsville, is the author of Elizabeth Spencer's Complicated Cartographies: Reimagining Home, the South, and Southern Literary Production.
Here's what people are saying about Understanding Pat Conroy:
"Catherine Seltzer has managed to thread the needle with a book that will both inform Conroy scholars and delight fans. Free of academic jargon and posturing, Understanding Pat Conroy is full of intelligence and insights that will deepen any reader's comprehension and appreciation of Conroy's works."—Katherine Clark, author of the forthcoming Great Love: Confessions of Pat Conroy
"An extremely insightful and well-written study of Conroy and of the autobiographical impulse that has driven the author, demonstrated in his fiction as well as nonfiction. Seltzer makes a case for why this 'popular' writer should be taken seriously by critics and scholars as well."—Fred Hobson, Lineberger Distinguished Professor in the Humanities Emeritus, University of North Carolina Chapel Hill
"Catherine Seltzer's elegantly written, sophisticated study carves a vital space for Pat Conroy in the literary canon. As she demonstrates, Conroy's work engages powerfully with the ongoing struggles of individuals trying to come to terms with the ways the South is still viewed as a region defined by strong racial divisions and entrenched patriarchal hierarchies. Ultimately, she makes clear that Conroy is a writer of deep intelligence, passion, and generosity of spirit."—Thomas Fahy, author of Understanding Truman Capote and Staging Modern American Life
"Pat Conroy is the only writer I know who is as passionate about rage as he is about tenderness, and that is what Catherine Seltzer's excellent book of profoundly insightful essays tells us. The bridge of language between those two emotional poles is the watermark of Pat's extraordinary literature."—Terry Kay, author of To Dance with the White Dog and The Book of Marie
Catherine Seltzer will joined by Pat Conroy to talk about her new book on Sunday, May 10th at 3 pm at the USCB Center for the Arts. Tickets are $35 and $60 per couple. Visit www.uscbcenterforthearts or call 521-4145 for more information.