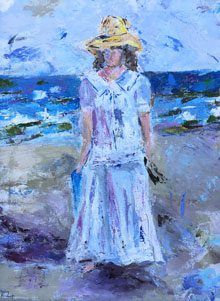 The SOBA Gallery is excited to start the new year by introducing Nancy Vineburgh as the January Featured Artist with her show "Contemporary Impressionism." Appropriate for a fresh new year as the work to be displayed is lively and carefree, characterized by colorful, quick brushstrokes. This exhibit represents Nancy's artistic journey for the past two years and is sure to delight with lovely paintings inspired by our Lowcountry surroundings. The local ornamental grasses fascinate Nancy and her canvas, 'Penelope's Pink Muhly Grass' is the centerpiece of this, her first one-person show. 
Nancy Vineburgh only began painting in 2014 upon her retirement from the Center for the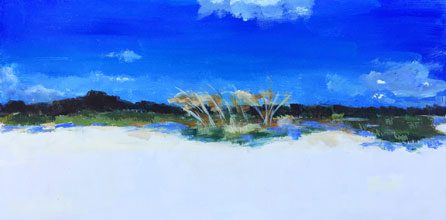 Study of Traumatic Stress, a Department of Defense organization. Her work creating public health campaigns and educational resources for service members, families and military health care providers worldwide encompassed extensive graphic design. This work in collaboration with Digital Design Group earned the American Graphic Design Award presented by Graphic Design USA from 2008 through 2014. 
Working in acrylics, Nancy initially favored using a palette knife, having studied with Jim Lewis. Examples of this technique include 'Granddaughter's World' and two paintings, 'White Linen' and 'Footprints.' She attributes her evolving style as a contemporary impressionist to Ted Jordan's open painting class at the Art League Academy on Hilton Head. According to Nancy, Ted creates an "environment of unconditional love," which has catapulted her growth and harnessed her passion for painting. With mutual admiration, Ted says, "Nancy's work in acrylics possesses a freedom and strength with great originality and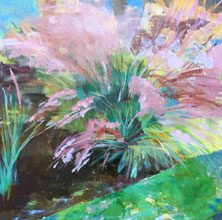 joie de vivre. Already a superb painter, I look forward to her growth into becoming a recognized artist of importance."
Nancy graduated from Connecticut College with a B.A. in art history and she also studied art at the University of Grenoble in France. She attended Columbia University School of Architecture and received the Dora Brahms Award and Fellowship to pursue interior design and decorative arts.
A resident of Bluffton for nearly 10 years, Nancy is a member of SOBA and the Hilton Head Art League. She also founded the Belfair Art League. She is deeply grateful to the entire arts community in our area whose fellowship and encouragement have contributed to her growth.
Please join us in greeting Nancy, enjoy her beautiful show and the work of over 100 other member artists. The opening reception, which includes refreshments, is on Sunday, January 8 from 3-5 pm. The show will be on display from January 2 through February 5. 
The SOBA gallery is open from 10 until 5 pm Monday – Saturday and Sunday from 11:30 am – 3 pm, and is located at the corner of Church and Calhoun Streets in Bluffton.
 For more information visit sobagallery.com or call 843-757-6586.