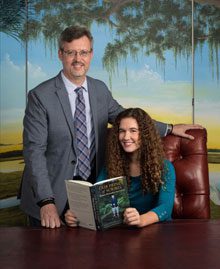 An interview with Holland Perryman, first intern at the Pat Conroy Literary Center
By Margaret Evans, Editor 
For over a year now, 16-year-old Holland Perryman has enjoyed the distinction of being the Pat Conroy Literary Center's very first intern. During that tenure she has served as a counselor at Camp Conroy, assisted in the production of SCETV's 'By the River,' taught several writing workshops, publicized numerous literary events, introduced on-camera interviews with authors, and had her book review of a YA novel published in the Charleston Post & Courier.
I've known Holland since she was a little girl – her father is the pastor of my church – and it's been a delight to watch her blossom in her role at the Conroy Center, a place so dear to my own heart. Recently, we discussed her experience via email… 
Margaret Evans: Holland, you've been interning with the Conroy Center for over a year now. What inspired you to pursue that position?
Holland Perryman: This adventure actually began partly with you! In eighth grade, we shadowed someone with a career that we thought we might want to pursue. I chose to shadow an author or journalist. I got paired with you and with Stephanie Austin Edwards, author of What We Set in Motion and volunteer for the Pat Conroy Literary Center. Both of you shared your own stories about knowing Mr. Conroy and working with him, and I was immediately intrigued. I've come to find that Conroy stories have a particular brand of magic about them. A year later, I interviewed to be the first Conroy Center intern, which was uncharted territory for all of us. Lucky for me, it has turned out wonderfully.
ME: You're a junior at Beaufort High and VP of the BHS student body. Is it difficult balancing your internship with your studies and other responsibilities? How do you handle it?
HP: I am a full-time student, but I like to stay busy. Internship obligations are always incredibly gratifying and it is a welcome break to fulfill my internship duties. The balance is made easy because our director, Mr. Haupt, and the people at the Center, are always checking in with me about school and my workload. Mr. Haupt has made the interning a bright spot on my schedule. I am constantly trying new things, like being interviewed for a newspaper! While it can be challenging at times, the challenges are helping me grow.
ME: Speaking of your boss, the Center's director Jonathan Haupt . . .  he so often sings your praises. I suspect he's become a mentor to you in the same way that Pat Conroy was a mentor to him, and to so many of us. Would you agree?
HP: Every time I work an event or meet anyone through the Conroy Center, I hear some incredible story about how Mr. Conroy influenced them or directly mentored them. Mr. Conroy was famous for being a mentor to as many people as he could reach, and the Conroy Center and Mr. Haupt embody that spirit of generosity. I've learned through example that any piece of knowledge we have is most valuable when it's passed on to someone else and when it can help someone else. Mr. Haupt is always teaching me something, whether it be an obscure Batman reference or advice about my writing. Because of my internship, I am always meeting new people and trying new things. Mr. Haupt gives me every opportunity to listen in and absorb the knowledge that is shared by the incredible people that work with the Center. He is also giving me tools to discover things for myself. He is helping me learn how to develop my own opinions, my own craft, and my own understanding of the literary world. I am so fortunate to have Mr. Haupt as a mentor, just like Mr. Conroy was a mentor to him.
ME: I know that you're an aspiring writer – congratulations on being a finalist in the inaugural Ann Head Literary Prize competition! – but you are also a theater artist. It seems to me that your job at the Conroy Center has allowed you to stretch both those muscles, among others. Am I right?
HP: Thank you so much! Everyone I've met through the Center has encouraged me to keep writing and working on my craft. I've also learned about how to write articles and press releases. Whether through workshops or casual conversation, I am constantly learning about writing, publishing, and the literary community. I've been blessed with this opportunity to dive into the literary world through this internship. I do love to read and write, but I've been enjoying theater all of my life, and I've been a part of the USCB Children's Theater for about 9 years. Some of my internship endeavors have helped me hone my theater skills. A little over a year ago, I was interviewed for North of the Broad about one of the Center's events. I was incredibly nervous and scared and I had basically memorized my answers to the questions I was going to be asked. I had the opportunity to come on the show again, a couple months ago. Only a year had passed, but I felt so much more comfortable, and I was able to enjoy it. This summer, I also got to go behind the scenes of SCETV's author interview show, By the River. I loved learning about the production of the show and meeting the crew and the host.
ME: What are some of your favorite Conroy Center memories thus far?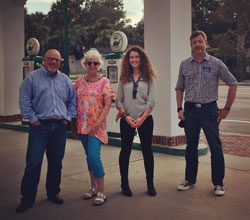 HP: I've many wonderful experiences working at the Conroy Center, but a few definitely do stand out for me. One of my favorite memories took place this summer. I had the pleasure of visiting Daufuskie Island and taking a tour led by one of Pat Conroy's students, Sallie Ann Robinson. I really enjoyed getting to see, firsthand, the scene and location of The Water is Wide. Another favorite memory of mine is counseling for Camp Conroy. The goal of Camp Conroy was to assemble a book of poems, stories, and art created by the campers. I got to know the campers through Zoom. I was floored by how smart, funny, thoughtful, and wise they were. I'm sure that I learned more from them then I ever could've taught them. Laughing and smiling with them during this difficult and exhausting time rejuvenated my spirit. 
ME: How do you think your work at the Conroy Center is preparing you for your future, whatever you dream it to be?
HP: Learning about writing, editing, publishing, publicizing and more has been invaluable, but I've learned something even more important than that. The Conroy Center has shown me that amazing things can happen when passionate people share a vision. It gives me hope that I will find something that I can be incredibly passionate about to share with the world. The Center has given me so many opportunities already, and has also given me an incredible support system for my aspirations, whether they lie within the literary world or not. I am so grateful for my internship and for all of the people who have helped me grow.
For more information about the Pat Conroy Literary Center visit www.patconroyliterarycenter.org
Top picture: Holland Perryman with Conroy Center Executiver Director Jonathan Haupt. Photo by Milton Morris
Bottom picture: Holland with Haupt and Conroy Center writer/volunteers Sean Scapelatto and Stephanie Edwards