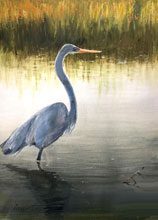 La Petite Gallerie is located in a lovely historic space on Calhoun Street in old town Bluffton. Featuring five of the area's favorite painters and two talented sculptors, this special collection of art  is an ever-changing delight, with many pieces spilling out into the adjacent garden.
In addition to the pastel, acrylic, oil and watercolor paintings you'll find lovely blown glass, whimsical and soulful clay pieces, wonderful outdoor sculpture, fish, turtles, birds and other fun garden art.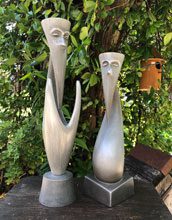 The La Petite Gallerie painters are Rose Cofield, Don Nagel, Murray Sease, Lauren Terrett and Bill Winn; the sculptors are brothers Kevin Palmer and Wally Palmer. We have several excellent consigned artists as well, including Kathy Oda from Lady's Island with her beautiful glass, and sweetgrass baskets and jewelry from Daurus Niles from the Charleston area.
Visit soon to see this special little gallery – you are likely to catch one of the artists on duty sketching or painting on the shady garden deck!
Above: The Fledgling by Bill Winn
Right: The Waters by Kevin Palmer