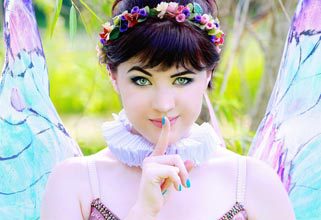 Shakespeare Rep has announced its 2014-15 season line-up. A Season of Wonders will pair two enchanting romantic comedies that spotlight the magic of love: Almost, Maine by John Cariani and William Shakespeare's A Midsummer Night's Dream.
The season opens on October 10 with Almost, Maine, a contemporary romantic comedy, at the USCB Center for the Arts. The quirky, offbeat comedy has broken box office records at theatres across the country, and is currently one of the most produced plays in America. The play has earned immense critical acclaim for its poignant exploration of loss and loss in a remote town in upstate Maine. The New York Times described the play as "a series of nine amiably absurdist vignettes about love, with a touch of good-natured magic realism…This is a beautifully structured play, with nifty surprise endings (most but not all of them happy) and passing references to characters from other vignettes, which slyly tell us more about them."   The New York Post wrote, "The show offers a sweetness and decency that's become rare at the theater. At this point, it's a welcome breath of fresh air."
Shakespeare's superb comedy A Midsummer Night's Dream will play at the Center for the Arts from March 19-22. The production brings together some of the area's finest acting talent, along with guest artists from London, Chicago and Nashville. Artistic Director Debra Charlton remarks, "A Midsummer Night's Dream will be our most ambitious production to date. We are thrilled to bring together a world-class acting ensemble to stage one of Shakespeare's most luminous and joyful comedies."
Tickets for both productions are now on sale through the Center for the Arts website: www.uscbcenterforthearts.com
Shakespeare Rep has also announced its 2014-2015 Apprentice Company Members: Alex Long of Beaufort, Jameson Gleason of Dorchester, Jacob Dalton of Beaufort, Hannah Joy Brown of Bluffton, Alyssa Lehnert of Beaufort, and Adelynn Helms of Bluffton. The Shakespeare Rep Apprentice Company was built with the objective of providing high school students of the SC Lowcountry Area with an opportunity to study the theatrical arts and craft through the work and life of Shakespeare. Under the leadership and guidance of highly skilled artists (Guests and Resident Company Members to Shakespeare Rep), the six selected high school students will train and develop their craft at no cost to them.
Apprentice Company Director Erin Dailey says, "The students we selected are hard workers, they are willing to apply themselves, they are committed and accountable, passionate and dedicated, and each have a great respect for the craft of theater. One of our hopes at Shakespeare Rep is that we will encourage them to maintain, deepen, and strengthen these wonderful attributes they have, in addition to equipping them with a wealth of knowledge, understanding, confidence, and experience."
The Shakespeare Rep Apprentice Company will run from September 2014 to March 2015. Students will participate in a December show and may have the opportunity to play a small role or understudy a principal role in Shakespeare Rep's 2015 spring show of A Midsummer Night's Dream.
For further information about Shakespeare Rep, contact Debra Charlton at dcharlton@shakespearerep.co.