Katherine Neville at USBC Lunch with Authors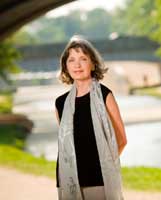 In Spain she's 'numero uno' on the non-Spanish authors' best seller's list. In the USA, Katherine Neville's latest novel, The Fire, hit and stayed on the NY Times bestseller list when introduced this fall. It is the sequel to The Eight which dazzled audiences more than twenty years ago and set the literary stage for the epic thriller. It had all the elements of swashbuckling action, intellectual mystery, true romance, and even some magical realism.
On Wednesday, February 18th , the Lowcountry's University of South Carolina Beaufort will play host to Katherine Neville at USCB's Lunch With Author series at the Moss Creek Plantation Clubhouse at 12:00 noon. Reservations are necessary for the lunch, talk, Q&A and book signing which is priced at $42. Call 843-521-4147 or email kingsley@uscb.edu.
The Fire continues the quest for a mystical chess service that once belonged to Charlemagne. It spans two centuries and three continents, and intertwines historic and modern plots, archaeological treasure hunts, esoteric riddles, and puzzles encrypted with clues from the ancient past. You're taken to 1822, Albania where Ali Pasha, the most powerful ruler in the Ottoman Empire, commissions his young daughter, Haidee, to smuggle a valuable relic out of Albania. Haidee's journey from Albania to Morocco to Rome to Greece, and into the very heart of the Game, will result in revelations about the powerful chess set and its history that will lead at last to the spot where the service was first created more than one thousand years before: Baghdad.
Neville's books The Eight, A Calculated Risk, and the Magic Circle are bestsellers in more than thirty languages. Her colorful adventure-quest-thriller novels are hard to categorize. She has been described as the female Umberto Eco, the female Alexander Dumas, and the female Stephen Spielberg. Publishers Weekly has recently described her books as having paved the way for books like The Da Vinci Code.
Neville has been a guest or speaker at venues around the world including the Today show; Publishers Weekly; Voice of America; National Public Radio; the Edgar Allan Poe and the Agatha Christie Awards; The Ateneo de Madrid; the Turkish culture Ministry in Ankara and the First International Rumi Symposium in Konya, Turkey; The Smithsonian in Washington D.C. and the World Affairs Conference in Boulder, CO.
Katherine Neville will be accompanied by her significant other, Dr. Karl Pribaum, a neuroscience pioneer who accepted the first Dagmar and Vaclav Havel Prize in Prague. He is a distinguished professor of Cognitive Sciences at Georgetown University and Computational Neuroscience at George Mason University. They live in Virginia, Washington D.C. and Santa Fe, New Mexico.