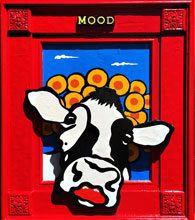 This July, Art League Gallery will host Wall Flowers, an exhibit of paintings by Amos Hummell, longtime resident and iconic artist of Hilton Head Island. The show is named in part for the canvases Hummell uses—recycled cabinet doors and picture frames usually found on walls. "My instinct is to liven up these items," Hummell said. "I want to energize them with new life, to bring them out of the shadows of neglect." 
Hummell has been creating art most of his life, and professionally since the early 1990s. A self-taught artist, his work is best described as "non-conventional." He is known primarily for his brightly colored palette that reflects the vibrant culture of the Lowcountry. While sheltering at home during the coronavirus pandemic, he shared his work daily on an easel in his front yard, and on social media, to lift his neighbors' spirits. Some of
those new works are included in this exhibit. 
Wall Flowers will be on exhibit June 30-July 25, 2020. Art League Gallery is dedicated to providing as safe an environment as possible. To that end, Art League is following all CDC and Town of Hilton Head guidelines, including available masks for patrons and mandatory masks for all employees, contactless and cashless service, frequent sanitization of the gallery, and a limit of 10 visitors in the gallery at any one time. 
Art League Gallery is open every day: Monday-Saturday 10am-4pm, Sunday 12-4pm and 90 minutes before every Arts Center performance. Art League Gallery is located mid-island inside Arts Center of Coastal Carolina, 14 Shelter Cove Lane, Hilton Head Island, 843-681-5060.