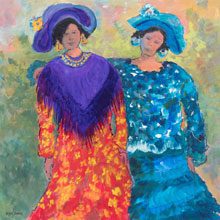 Beaufort's art community is in for a treat in July and August, when Wyn Foland brings her paintings to the Beaufort Art Association Gallery on Bay Street. An exhibit of her works is planned for June 28 through August 29 at the Beaufort Art Association Gallery, 913 Bay St. in downtown Beaufort.
 "I call my exhibit 'The World Through My Brush,' because my show is diverse – exhibiting paintings of the Lowcountry (especially the skies) and my love for gardening shown through flowers.  My paintings also illustrate my fascination with the interactions of people, my annual painting trips to Peaks Island, Maine, and my imaginative works and abstracts," Foland said.
 The public is invited to a reception on Friday July 3 from 5 to 8 pm at the gallery, light refreshments will be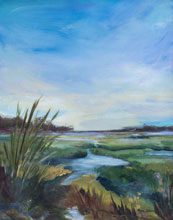 served. Also on display will be works by other local artists who are members of the Gallery.
An impressionistic artist with roots in New England, Foland came to Beaufort by way of Lake Hartwell, Georgia, where she and her husband, David, lived for 14 years before moving to Port Royal in 2018.
"We enjoy all the Lowcountry has to offer – especially walking in the community and along the beach, and hiking in search of birds in their habitat," she said. The Folands recently joined the local Audubon Society to learn more about shorebirds and other avians in the Lowcountry. They also love boating, gardening, traveling, going to festivals and spending time with their five grandchildren and families. "Much of my new art is inspired by these outings and by observing nature," Foland said.             
"My artwork evolves through a spontaneous process built from my years of painting on location, studying my surroundings and observing people's interactions, as well as experimentation, education and travel," she explained. She quickly sketches her subject on location, then develops the idea later in her studio. Her paintings vary in size from miniatures to large canvases; she works in acrylic, watercolor and mixed media. 
She has attended workshops in Italy, England and Costa Rica as well as throughout the U.S. She studied at the Greenville Art Museum and with many well-known artists. An active member of whatever arts locale she is a part of, Foland has exhibited and won awards for her work since 1980. She is a member in Excellence of the S.C. Watercolor Art Society, a lifetime signature member of the Georgia Watercolor Society, and an elected member of the Miniature Painters, Sculptors and Gravers Society of Washington, D.C. Her work is included in private and corporate collections around the world.
Foland said she took her first art lesson in the third grade and never looked back. "From that day on, I wanted to be an artist. This is a wonderful art community," Foland said. "I am fortunate to have a studio at Lady's Island Marina and to be a member of the Beaufort Art Association, showing my work there and at the Marina Store on Lady's Island."
Chartered in 1957, the Beaufort Art Association is a tax-exempt membership organization.  Currently, there are around 175 local artists who are members, 65 of whom exhibit in the Gallery.  To find out more, call (843) 521-4444, or go to our website at www.beaufortartassociation.com.