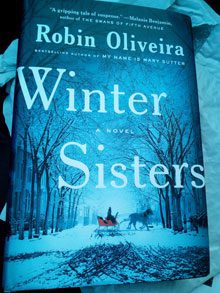 USCB Lunch with Author series will continue on May 16 at Sea Pines Country Club with New York Times best selling novelist Robin Oliveira. Oliveira is the author of My Name Is Mary Sutter, I Always Loved You, and her latest, Winter Sisters. She received an MFA in writing from Vermont College of Fine Arts and is also a former registered nurse, specializing in critical care. She lives in Seattle, Washington.
About Winter Sisters
March 10, 1879, Albany, New York: The day begins like any other. A light snow is falling as Bonnie and David O'Donnell leave their row house on Elm Street, dropping off their two young daughters—Emma, ten, and Claire, seven—at school, and hurrying on their way to work. But when the sun rises two days later, an epic blizzard has separated the family and devastated the city. Both Bonnie and David are dead, and Emma and Claire are nowhere to be found. In the wake of this catastrophe, Dr. Mary Stipp (née Sutter), a close family friend, begins her tireless search for the girls, refusing to be cowed by police pressure or to believe they are lost forever. What she discovers, and the ensuing uproar, will shake the city to its core and expose a seedy underbelly of corruption and scandal.
A rich and compelling historical drama, Winter Sisters (Viking; Hardcover; On Sale: February 27, 2018) is the third novel from Robin Oliveira. The inimitable protagonist of My Name Is Mary Sutter, winner of the Michael Shaara Prize for Civil War Fiction, returns, just as sharp and tenacious as ever, but now embedded in a different kind of war—one of dark secrets, desperate measures, and powerful enemies. Perfect for fans of Mary Sutter and new readers alike, Winter Sisters is a subtly riveting and atmospheric tale of what happens when we are confronted with the unthinkable, and how we choose to move forward in its wake.
         Part gripping thriller and part emotional family saga, Winter Sisters explores the vast range of what humans are capable of, from tremendous good to unspeakable evil. It is a story about the aftershocks of trauma and the strength and resilience of women—to do what is right, to band together in times of strife, and to endure. Oliveira's vivid language and lush period detail evoke a society at the end of a century and on the cusp of change, where women must fight to be heard and respected, because the societal and legal infrastructure is not in their favor. And thought the novel is set almost 140 years ago, Oliveira's piercing social commentary resonates profoundly today. Mary Sutter is a heroine for the ages—unbound by convention, unyielding to pressure, and unwilling to let the shadowy motives of powerful men get in her way, especially when the souls of two innocent girls are at stake.
Join us for Lunch with Author Robin Oliveira at Sea Pines Country Club on Wednesday, May 16 at noon. Reservations must be made in advance. Ticket are $42. For additional information go to www.uscbcenterforthearts.com