Mary Sullivan and Kevin Eichner at the Art League Gallery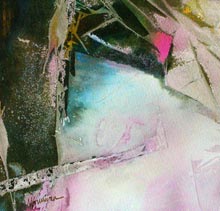 The Art League of Hilton Head presents In the Spirit of Nature: Explorations of Abstract Naturalism by Mary Sullivan and From the Fire by Kevin Eichner opening with an artist reception Thursday, March 3, 5-7 pm. Exhibit runs through April 2 at The Art League of Hilton Head, Walter Greer Gallery, Arts Center of Coastal Carolina, Hilton Head Island.  843-681-5060 or  www.artleaguehhi.org
The "spirit of nature" for Mary Sullivan is boundless creativity and variety.  According to Sullivan, "creating in its spirit is a fascinating journey," partly inspired by Edvard Munch's quote, "Nature is not only all that is visible to the eye . . . it also includes the inner pictures of the soul."
In Sullivan's exploration of abstract painting, she kept finding that natural, organic forms emerged as she pursued abstract images. She used water media with a limited palette of permanent lightfast inks, some fluid acrylics and metallic water color.  She applied pouring and staining techniques relying in large part on forces of gravity, capillary action, and evaporation for the final result.  In addition she also reworked surfaces with some brush and pen application, as well as with rubbing, sanding and occasional glazing.
Sullivan works intuitively, responding to what is happening before her eyes and in her spirit, where feelings, forgotten memories and impressions are stored.  The abstract nature of the images allows each viewer to form their own associations.  "I love the openness of the process of abstract painting, the flow of the paint, what happens with color, the always surprising evocations.
Ms Sullivan will be in the gallery Walk & Talks on Friday March 4 from 10am – 1 pm, Monday March 7 from 1-4pm, Saturday March 12 from 10am – 1 pm, and Thursday March 17 from 1 – 4 pm.
She was awarded a grant by the Arts Council of Beaufort County with funds from the City of Beaufort and the SC Arts Commission through the NEA with additional funding from the John & Susan Bennett Memorial Arts Fund of the Coastal Community Foundation of SC.
Kevin Eichner was born in Buffalo, NY, where in his youth he spent time scavenging amongst the
mountains of industrial scrap in the shadows of Bethlehem Steel.
His work evolved from the stiff, rigid, industrial I-beam, an icon of the 20th century, typically used in the construction of vast bridges and towering skyscrapers. As a sculptor he searches to understand the truth of the materials, bronze, steel and iron, and strives to discover ways to stretch and manipulate those truths to bring forth its potential in new ways.  He has discovered the breath within the beams.  He has developed an understanding of how the structural nature of the material frees itself of its industrial function, allowing the material to blossom, intertwine and gesture towards the sky, as a symbol and celebration of both human nature and Mother Nature.
Eichner's work is part of a number of permanent collections around the Carolinas, at the WaterWorks Visual Arts Center in Salisbury, The Broyhill Civic Center in Lenoir, Rocky Mount Arts Center, Duke University and a number of private collections. Eichner is currently one of the artists selected for the Rosen Sculpture competition in Boone, NC, along with outdoor exhibitions in Salisbury, New Bern and Chapel Hill.
Both artists are having their premiere as featured artists at the Gallery.  Other artists' work will be displayed in the gallery. – The Art League of Hilton Head is a not-for-profit membership organization dedicated to promoting and supporting the visual arts. Gallery hours are Monday-Saturday, 10:00 a.m. till 4:00 p.m.  For more information call 843-681-5060 or visit  www.artleaguehhi.org