3rd Annual Beaufort Twilight Run and Oyster Roast set for March 19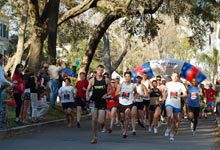 What can top running or walking on a beautiful evening in early spring, watching the sun set over the picturesque marshes of Beaufort, and then enjoying a traditional oyster roast? Well, nothing, or at least that's what organizers of the Beaufort Twilight Run and Oyster Roast think. Beaufort's biggest running festival, which happens annually on the third Saturday in March, has been a very successful fundraiser for Riverview Charter School
,
and a huge draw for Beaufort. With over 1,300 participants in the 8K Run, 5K Fun Walk, Kid's Fun Run and Oyster Roast in 2010, the race is slated for an even bigger crowd in 2011.
When the event began in 2009, the overall goals were two-fold: to create a family-friendly event promoting physical wellness, while concurrently introducing a premier, competitive race to the Beaufort region. The first two years of the Beaufort Twilight Run proved both of these successful, while also creating something else – a sense of camaraderie in Beaufort that locals are eager to participate in, and that out-of-towners use as an excuse for escaping to the Lowcountry.
Though a large number of participants come from South Carolina and Georgia, fifteen states were represented in 2010, and this year, runners have signed up from as far away as Alaska. The run and walk also gives many groups the opportunity to come together and be active outside of the normal classroom or office. Groups from many schools in Beaufort and even Charleston come out together to do the Kid's Fun Run, or walk the 5K as a class. Co-workers and squadrons sign up for a bit of friendly competition. Last year, a group of fifteen young men from the Ft. Stuart Youth Challenge Academy out of Ft. Stuart, Georgia came to take part in the BTR, along with as ten members of the College of Charleston running club.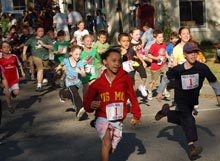 The USA Track and Field sanctioned Beaufort Twilight Run expanded this year to include a chip-timed 5K, much to the request and suggestion of past participants. This addition will include overall finisher and age group awards. The 5K Run and walk, which is sponsored by Watermark Coastal Homes, will be preceded by the ¼ mile Kid's Fun Run (free for those who register by March 17) and followed by the main event – a timed, USATF certified 8K run sponsored by Habersham. The 8K features cash awards to the top male and female 8K finishers in several categories: top 3 overall winners, masters overall, active duty military, and hometown hero (Beaufort County resident). All racecourses start and finish in the Habersham Marketplace and traverse the coastal community of Habersham, with picturesque views along the marsh and beneath the sprawling live oak trees.
The fun does not end when you cross the finish line! New for 2011 is a live band, Stan Gray and the Stingrays, who will play during the post-race celebration. The Oyster Roast, catered by Sea Eagle Market, is open to the general public (not just race participants), and will include locally sourced oysters, grilled chicken and delicious sides!  Oyster roast tickets, kid's meal tickets and race registrations can all be purchased online at www.BeaufortTwilightRun.com.  Prices go up on Wednesday, March 2nd, and again on March 18th, so make your reservations now.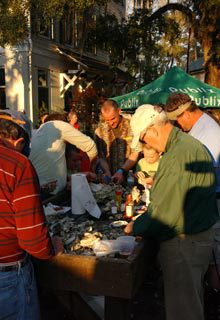 The Beaufort Twilight Run is an annual fundraiser for Beaufort County's first charter school, Riverview Charter School.  Riverview's Development Chair and the event's coordinator, Jody Hayward, is thrilled about the overwhelming response and interest in the 2011 Beaufort Twilight Run and Oyster Roast. "We are really excited about our 3rd Twilight Run.  It has become a favorite family event for so many people throughout the Lowcountry.   The response that we received from the runners last year was awesome, and this year's registrations are coming in from all over the Southeast.  With the introduction of the 5K Run this year, I think we're on track for another great event!"
If You Go
Where: Habersham Marketplace
Schedule of Events:
Friday, March 18
4-7 pm – Packet Pick-up and Late Registration during the Habersham Farmer's Market
5-9 pm – Pre-race pasta dinner at Piace Pizza
Saturday, March 19
1-4 pm- Packet Pick-up and Late Registration
4:30 pm– Kid's ¼ Mile Fun Run
5:00 pm– 5K Run & Fun Walk
6:15 pm- 8K Run
6:30-10:00 pm – Oyster Roast & Post-Race Party
7:30 pm – Awards Ceremony
Cost: 5K Walk – $15, 5K Run – $25, 8K Run – $30, Oyster Roast – $17
Prices go up March 2nd. Visit website for full pricing details including discounted oyster roast tickets for race participants, group, and military discounts.
For more information about The Beaufort Twilight Run and Oyster Roast visit www.BeaufortTwilightRun.com.  Proceeds from the race will benefit Riverview Charter www.RiverviewCharterSchool.org.